View NEWER Postings - Click here
Wednesday, 3/31/2010: Update 10:00pm. Day is complete. I got into the gym for more cardio, did 20 minutes on the elliptical, then 20 on the treadmill (treadmill time was walking on the random setting). Then it was on to clean up, grab a bowl of chili and hit the bowling alley to cheer on my team.
Did have an interesting thing happen today. A very nice gentleman from POM Wonderful in L.A. contacted me and will be sending me a case of POM to try. I'm very excited to try it, especially as I spent some time browsing their site today to see all the fun recipes to make with it. I think it'll be fairly easy to "clean" them up... replace the all purpose flour with a healthier variety, and so on. I'm very excited! It should arrive next week. So if you have any recipes that include POM, send them my way :-)

Update 2:00pm: Lunch! Yeah, I'm still running behind, lol. But I made an accidentally wonderful lunch! Chopped chicken breast, 1/3 cup 7-grain pilaf, steamed broccoli, then I sprinkled it with reduced fat feta and sprouted sunflower seeds (1Tbsp each) and then drizzled 2 Tbsp coconut oil. Mixed it up and Wow! It's got the sweet/savory thing going... In one bite I'm tasting sweet coconut (it's not overpowering at all, very subtle) AND the savory tang of feta. Awesome! And yes, lol, it's in my bowl. Still keep forgetting to bring a plate into work. :-)
9:20 am: How does it happen? I was running 20 minutes early, and got to work 20 minutes late! Sheesh. I've got my chili going in the crockpot at home, easy dinner. The ground buffalo was already cooked, so I just dumped it in the crockpot along with the canned tomatoes & beans, add more seasoning and walk away. :-) Tonight is bowling night, but I'm out (we rotate) so I'm hitting the gym (yes!) then cleaning up and heading over to cheer the team on.
Breakfast was a little haphazard... I did a quick wrap (ezekiel sprouted wrap) with a hard boiled egg and other fillers... (see Today's Cooler), and a 2nd hard boiled egg plus an apple, but it doesn't feel like enough. Good thing I've only got 2 hours until it's snack time :-)
I'm trying a new flavor of Kombucha today... it's Botanic No. 9. I'd love to tell you how it tastes, but I am still trying to clean up the mess it made when it exploded as I tried to open it. Naturally effervescent... note to self: open slowly, without any distractions. Ok, finally got it open without incident.... hmmm. Gingery. Not my fav. Eh. It's drinkable, but I won't buy this flavor again.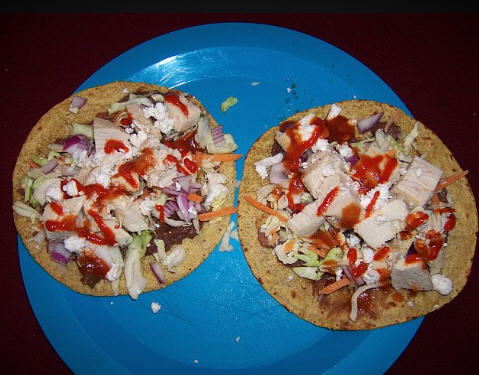 Tuesday, 3/30/2010: Update 9:30pm: Gym, check. Healthy dinner, check. :-) Since I did upper body & abs yesterday, today was just cardio... I did 30 minutes on the treadmill and 20 on the stairmaster. Remember I was so excited because I ran 20 minutes straight during my last cardio session? Well today was 21! Wooohooo! Yeah baby! Then dinner was soft tacos with the Ezekiel sprouted corn tortillas, mashed black beans, ground buffalo and a bit of chicken with shredded cabbage, onion, reduced fat feta, sprouted sunflower seeds, and taco sauce. I had a Tablespoon of coconut oil that I still had to get into my food, so I drizzled it over my tacos... sounds bizarre, I know, and I was afraid I was making a BIG mistake (wouldn't be my first, lol) but Wow!! It was so yummy!
9:00 am: I'm fighting allergies. Usually, by now I've lost the battle and the allergy attack has turned into major respiratory & sinus infections... this is about the time of year I usually get Pneumonia, or double pneumonia. No Bueno. I've got a few things going for me that I haven't in the past... I quit smoking, I'm healthy & fit, and I'm drinking a Kombucha each day. My vitamin levels are good without supplements, too. I can feel it trying to take hold of my lungs, my sinus's are tingly... I do NOT want to get sick. I WILL ward this off!
Gym yesterday... warmup then upper body and abs. Bill went with me, though he always does his own thing. We did both end up in the "ab area" at the end, and I was a little disconcerted to feel him staring at me while I was working, then, as I took my 2nd rest before my last set, this guy came over to tell me he was impressed with what I was doing. I'm thinking, "huh?", and Bill pipes in, saying yeah, that was the most difficult looking thing he's ever seen in a gym. The other guy agrees and says again how impressed he was, that I was "seriously hardcore". It was wild! And pretty darn cool! :-)
Anyway, here's what I did yesterday:
Dumbbell chest press
Dumbell flyes
Overhead tricep extension
V-ups on the bench
Rest. Repeat for a total of 3 rounds.
Assisted Pullups
Wide Grip Lat Pulldowns
Low Rows
Medicine ball crunches with twists.
Rest. Repeat for a total of 3 rounds.

Dumb bell upright rows (point elbows up towards ceiling) - photo to the right.
21's with red resistance tube (stand feet hips width apart ON the tube, then do the bicep curls, all the way up then 7 halfway down, then all the way down and 7 halfway up, then 7 full).
Rest. Repeat for a total of 3 rounds.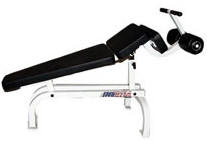 Decline medicine ball ab raise - 3 sets of 15/20... this is the one that garnered the comments. I can't find a photo of the actual exercise (I've never even actually seen anyone else do it, lol), but here's the general idea... climb aboard the decline, hold a medicine ball (I use a 12 for this) and lay all the way back touching the ball overhead to the floor. Now as you crunch up, bring the ball up over your head and in front of you pushing it toward the ceiling and tighten your core, glutes & quads and raise your body off the bench so that from knees to head you're completely off the bench pushing that ball up to the ceiling. Squeeze and count to 3, then go back down, ball overhead to touch the ground. Do as many as you can. One of these days, I'll get pics and a video of me doing it to show you. These are awesome! They hit your whole core, triceps, glutes, quads, calves... Woohoo!
Felt great after my workout, and we walked home and had loaded chicken salads for dinner and split another amazing steamed Portabello w/pico de gallo & feta. Had a decadent slice of brownie from the weekend's recipe testing. :-)
My back & chest are sore today, yay! :-) I'm planning on cardio tonight.
Monday, 3/29/2010: Update 4:00pm:
Snack. Oh-Yum! My snack is a portabello mushroom with pico de gallo & feta in the center. I steamed it in one of my ziploc steamer bags for 3 minutes... OMG! Heaven! So Tasty! :-)
9:00am: Yesterday was the carrot cake testing. We got it narrowed down to one.. they're actually cupcakes but really tasty, and don't even need icing. I've decided ElanasPantry.com is one of my new favorites! Gal can cook, and bake, and ... :-) If you haven't seen her site, you should visit it. She and one of her sons has Celiac so her stuff is gluten free... and amazing! Really amazing! And the baked beans from Tosca's cookbook (the most recent one, hard back) are really good and definitely on the menu. :-)
Today, I'm planning to hit the gym after work/picking up Bethy. Cardio & upper body.
Saturday, 3/27/2010: Update, 10:00 pm: Ok, phase one of recipe testing is complete. My day got a bit fuzzled when we discovered our couch was in the warehouse and we had to drive across town to 2 different places, pick it up, go home, set up... blah blah. Took forever, so I didn't even get started on my recipes until 5:30. Yeesh! So I did all the candy recipes tonight, tomorrow I will do the baked goods, along with my sunday food prep. It's funny, my official tasters were loving the candy, fudge, and peanut butter balls, but when I gave them a recipe I'd made up myself (they didn't know) that's the one everyone picked as the favorite! Who'd'a'thunk! I've got one last batch of chocolate truffles to do, then I'm done for the night. Tomorrow we'll be testing carrot cake recipes, cupcakes, and maybe a batch of cookies. We'll see. I'll get my ducks in a row and post the recipes soon, along with their sources. I don't want to post them until I can give everyone their due credit.
1:30pm Update: Gym, Check! did cardio and abs. And I'm so excited! I ran on the treadmill for 20min straight!! I warmed up for 3 minutes, then ran (jogged) the next 20, then cooldown for 7. I couldn't believe it! I felt good! The first 17 minutes were fabulous, the last 3 were difficult but I got through them, and my knees and shins don't feel any worse than usual. Wow! It's not a result of easing back in, and the only thing I've done differently lately is the coconut oil. Could that be helping? Huh. It's interesting for sure!
9:00am: So yesterday was my ultrasound & mammo, plus bloodwork results. Yay! My full spectrum liver analysis came back "in range". I'll take it. Mammo was fine, routine with a clean bill of boob-health. lol. Don't know about the ultrasound yet, but I'm going off the assumption that since my analysis was ok, so will be my ultrasound. I did not make it into the gym yesterday, and I'm still sore from thursday (legs & cardio... youch!) but I did make multiple runs with heavy boxes of books :-) Filled up 3 more book cases in the living room :-)
Today is recipe testing day, though I still need to locate a few ingredients, including yellow eye beans. I'll be posting the winners that will earn their place on Easter's menu :-) I'm heading to the gym shortly, then to the store for those beans (I hope) and then it's kitchen time!
I used those fantastic Ezekiel sprouted corn tortillas again... took a pic this time before I devoured them. Man, they're yummy! And yes, I know my picture looks goofy. Whatever :-) On those wonderful tortillas is a tsp of mashed black beans, shredded cabbage & carrot mix, onions, chopped chicken breast, reduced fat feta and taco sauce.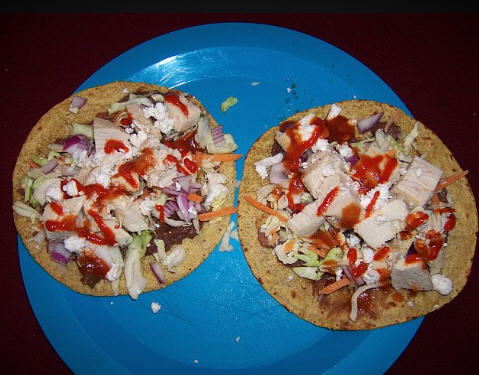 Thursday, 3/25/2010: 9:00am: Bowling night... had an apple and an Ezekiel wrap. Little dry, had to add mustard, but dinner stayed clean. I took my regular pic this morning of my cooler and then it dawned on me that you can't really see what's in there, so I pulled it all out and took another pic. So check out my Today's Cooler page and see what's on the menu today :-)

Also on the docket... exercise. Operation Marshmallow Fluff is moving forward. After picking up Bethy from Track, I'll be dashing home to change and jog over to the gym (LOVE being so close!). I plan on doing leg day, abs, and light cardio. Tomorrow is packed but I'm hoping to get into the gym and do full cardio. I've got an Ultrasound, a Mammogram, and Bethany's eye appt, plus a million other errands to run. Yeesh. And hopefully, my lab results will be back today or tomorrow... and hopefully they're good. I hate waiting. It really messes with my head.

Planning Easter's menu... what's "traditional" in your house? I'm doing what I can to keep the food clean, but with delegating dishes, I lose a lot of control. The whole fam is ready for this weekend, though, when I'll be trying out lots of bread & dessert recipes from across the www. Lol!

UPDATED WEIGHT LOSS STATS!!

Oh! And I forgot to mention... When I had my Dr appt Tuesday, we spent a LOT of time going through my medical history trying to find clues as to what's going on now... as he paged through, he was stunned by my weight loss. I said, yes, I'd lost 60 pounds. He said, No, you've lost a lot more than that! My chart showed me at 194 when I started my journey (I had thought it was 178 - shows you how much I avoided the scale - and my high level of denial!)... so, from 194 to 123 is 71 pounds! Now I was the one stunned! He kept asking me how I did it, what I eat, what I do... he then told me he'd lost 60 pounds, but had gastric bypass and still had a ways to go. He just couldn't believe I'd done it with just diet & exercise. :-)

Wednesday, 3/24/2010: 1:00pm: Lunchtime! And yeah, I forgot a plate, again. oops! :-) I love beets, but gotta say that the way the beet juice colors everything it touches is a little... weird sometimes. I mean really, hot pink pork just doesn't look right on a plate.
9:00am: Got my cardio in last night, and Bill went to the gym too! Yay!!! I did 20 min on the treadmill, alternating walking/powerwalking/jogging/running, then did 15 on the stair-monster, alternating regular climbing with 100 side-steps left, then 100 sidesteps right, then skipping a step and doing kick-backs... I was so ready to stretch! Walked home, then dinner was ready in a jiff... used the browned/seasoned ground buffalo and crockpot chicken breast from Sunday's food prep and we had soft tacos. I used Ezekiel Bread's flourless sprouted corn tortillas... Wow! Awesome product! Ingredients are: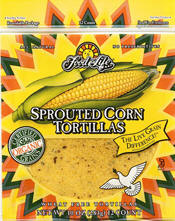 Sprouted Whole Kernel Corn, Filtered Water, Sea Salt and Lime. Super tasty! I heated them up in a pan, then added 1 tsp mashed black beans, 1 heaping Tbsp ground buffalo, 1 heaping Tbsp chopped chicken, a few slices of red & yellow pepper, shredded cabbage, reduced fat feta and a sprinkle of sprouted sunflower seeds, then drizzled taco sauce... OMG! So good!! Bill even liked them! Of course, that was before he knew they were healthy, then sprang a whole debate on "sprouted" food... lol! Silly boy. Don't mess with me on this... I know my stuff and I will take you down! :-) JK, seriously though, it's so great to find a product he likes! One of the "battles I will not win" in my house is over his flour tortillas.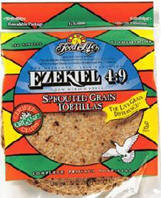 He just will not give them up. <sigh>. But now I have great corn tortillas in my arsenal! :-)
Tonight is bowling, so I'll be rushing home to re-pack my cooler. I'm planning a wrap with another Ezekiel product, Sprouted Whole Grain Tortillas. Haven't tried these yet, hope they're as good as the corn ones!
Regarding the coconut oil experiment... I'm slowly increasing my intake. I'm keeping an eye out for changes, and while I don't want to attribute every change to the oil (there is indeed such a thing as coincidence, besides, I'm a bit of a skeptic), I want to be aware of them. For instance, I don't particularly care for the "oily" feel on my arms... I only accept that particular sensation when I'm lying on a beach with a pina colada in my hand. Probably going to cut back on how much I rub into my skin. But, during my cardio last night, after the treadmill and about a minute into the stairs, I hit the suck zone. Seriously didn't think I'd make it. Told myself if I could just do 5 minutes, then I could get off the machine (yes, I negotiate with myself). I closed my eyes, turned up my tunes and at about minute 4 hit a 2nd wind. Next time I looked down I had been going for 8 minutes, and the next 7 were, while not a breeze, certainly not high-suckage. I don't know if that has anything to do with the oil or not, but it was unusual for me.
Tuesday, 3/23/2010: Update: 1:30pm. Lunchtime.

Somehow my food always ends up in a bowl, couldn't possible be because I keep forgetting to bring an actual plate into the office. Nah. :-) What you see there, my friends, is a bowl of chopped lean pork, 1/2 cup of my wild rice/barley/quinoa/hemp seed concoction, a cup of steamed orange cauliflower (love those steamer bags!) all drizzled with a tablespoon of coconut oil. I would have thought it would make my food "oily" but it doesn't... creamy would be a better word. And it's relatively tasteless, so I'm not having to adjust to a new flavor. So far today, I've had 1 tbsp rubbed into my skin, 1 tsp in my breakfast, and a tbsp in my lunch. Goal is 3-4 Tbsp. I am noticing that my notoriously chapped lips are NOT chapped today. I'll keep an eye on that to be sure it's not a fluke. :-)
9:00am. Today is re-test day. I'm having my blood-work repeated and hopefully will see a significant change (and maybe that the last results were lab error!).
Food today is good, though I may be a tad low on protein. Last night Tab & I did chest, triceps and abs. :-) Not sure yet what today will be, then I would very much like to get up early on Wed. and go do cardio, but no guarantees. Mornings are strictly for coffee in my book. :-) But Operation Marshmallow Fluff may have to take priority for a while.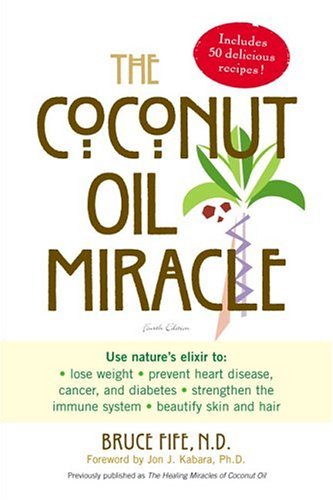 Monday, 3/22/2010: Update: 2:50pm. Ok, I've decided to take the Coconut Oil challenge. It's on. The object is to use 3-4 tblsp coconut oil each day for 6 weeks. I can eat it straight out of the jar, cook with it, rub it on my skin, in my hair, whatever. During the next 6 weeks, I'm supposed to see a leaner me, more radiant skin (won't that be nice?), shiny hair, and better health. So far today, I'm up to 3 tsp. I've got 1 tsp rubbed into my skin, and a total of 2 tsp in my food. At lunch, I microwaving my rice/grains, then added my coconut oil. There was a bit left in the container, so I rubbed it into my hands & elbows, then realized I probably looked very strange to anyone watching. LOL! My skin is soft, though! :-)
9am: Holy Grail Achieved!!! Wooohoo!!!!! Not only did I get my boxes unpacked, but I went out on a limb and did decor in my bedroom! (I am severely decorating challenged). Below you'll see the stairway, hallway, office, then my bedroom & bath...
And therefore, I was free to indulge in my Holy Grail... a bit of organic, no detectable sulfites, red wine by Frey, dark chocolate from Godiva, bubble bath from Sephora, candles, and my first dunk in the jetted tub! My soundtrack was Rock Sugar, I had planned to use Loreena McKennitt or some similar soothing tunes, but my Rock Sugar CD arrived that day and was way too fun to shut off. If you haven't already, check them out. Truly great :-) As you can see from the pics, Nakki was fascinated by the bubbles.
One small miscalculation, though... Even though I only used 1 tbsp bubble bath... with the jets.. LOL!

Then a few pics from Sunday's food prep...
Books.... I've just finished The Coconut Oil Miracle by Bruce Fife. Very interesting read. I already enjoy coconut oil & coconut butter both for cooking & skin care. I'm considering taking his challenge for the next 6 weeks. I'll keep ya posted :-)
Saturday, 3/20/2010: I love lazy saturdays :-) The Man is at a bowling tourney, so he'll be gone all day with the boys. I've got 2 boxes left to unpack. YAY! And my legs are SORE! Woohoo! You know that spot where the hamstring goes into the glute? Youch!
So, I got to have lunch with Bill yesterday at my FAVORITE restaurant, Red House. I forgot to snap a pic before I dove in, but I got one of my to-go box. When my meal is first served, I transfer half into a to-go box immediately. Then I dig in to the rest ;-) Yum yum!!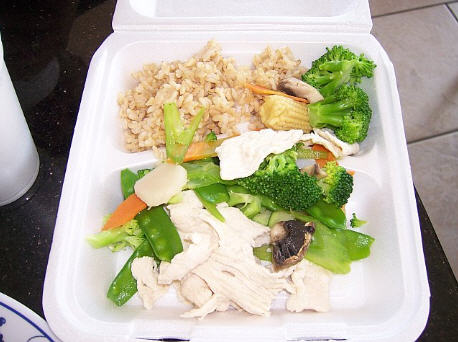 After lunch, I hit Fashion Square. Not nearly as much fun without Tab :-( But I managed to drag myself into Godiva, lol. Got Bill a chocolate covered oreo (OMG), and then my supply for holy grail night. And, I found my bubble bath and candle for holy grail. Tangerine Grapefruit bubble bath from Sephora and Green Daisy candle from Bath & Body. I also found one more thing, which my beloved husband gave me the thumbs up to purchase... a new scent! Those of you who know me, know that I LOVE perfume. I have a scent for (haha) every personality! I also have a penchant for choosing scents that are soon discontinued. Blah. Anyway, it's been well over a year since I've purchased a new scent. And it's funny, given the choice, this is not a scent I would have picked up to sniff. But I was accosted by the perfume lady, and to my surprise, really liked it. So I walked around the mall for a couple hours to "live" with the scent, and discovered that I REALLY liked it! So into Sephora I went... found that they, too, carry the scent, and then went in search of my bubblebath... and the Tangerine Grapefruit actually layers wonderfully with my new perfume! Similar citrus notes. So what's my new scent? I'll give you a hint... the bottle is covered with C's...
Yep, my new perfume is Coach.
On that note... it is amazing how certain things make a woman feel like a woman. It's been a really rough year, for many of us. There were times I didn't know how we were going to make it. Stress doesn't really allow for femininity, if you know what I mean. It's been a couple years since I've had my nails done, at least a year since my last pedicure, same time period for face-waxing... My last Sephora "joy" trip was so long ago, I can't remember when it was. I may not be wording this properly to get across my point, which is that I've given up all my external 'girly' things... and stopped feeling girly. But I hit the mall for some bublebath, a candle, and pick up a new scent and suddenly I'm feeling pretty. Silly, I know, but it has made me realize that I've got some work to do. I have to be able to feel pretty & girly without spending money. Now remember, I haven't had a working bathtub in several years... so that is now back on the table in this new house. I can enjoy long bubble baths (in theory, we'll find out if I can have an undisturbed bath when I do my holy grail night). So top of my new "I'm female" list is a hot bath. But what else?
So Question... Ladies, what are some things that make you feel girly? How do you stay in touch with your sexy-feminine side when times are tough and stress is high?
Update from yesterday: I forgot to post yesterday's lunch... I had an Amy's frozen bowl in the work freezer. I seriously have no idea how long it's been in there, lol, but it sure came in handy! If you need a go-to frozen meal option, check this out. It's a CLEAN choice! yay! (click on the pic to view product & nutritional info).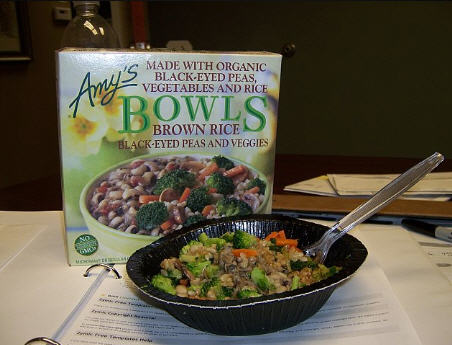 Friday, 3/19/2010: Ha, so I blew off the gym/leg day last night. BUT... I did it this morning, and plan to go back this evening for cardio. :-) I wasted my legs! I had walked to the gym, and you know that "push" at the end of a workout where it's all you've got left? I seriously didn't think I was going to make it back home! LOL! I'm wobbly even now, an hour later! Good workout! Yay!
I have a ton of errands to run today, including a bit of grocery shopping (yay), and a mall trip (bigger yay!) to get my HOLY GRAIL supplies!! Wooohoo! This weekend will mark the reaching of my holy grail! The only thing I'll be missing is my glass of red wine... damn. Still no wine until I get a new liver enzyme test. That won't be until next week, and then who knows when I'll get the results. I am so excited to be almost completely unpacked!
Thursday, 3/18/2010:

As you can see by the photo, today's cooler is looking skimpy. See the Cooler page for details.
Bowling was ok... did good the first two games, blew the last. Part of my problem (no laughing) is that the finger holes in my ball are too big. I said no laughing. First, I bought the ball 3 or 4 years ago. Second, back then I was fat. And my fingers were fat. Once I lost the weight, I had to have my rings resized (yay) but I never switched my ball or had the holes re-done. Anyway, it's become increasingly difficult to hold on to the ball without dropping it or having my fingers in so far they stick. Wow, that didn't sound right. I'm going to have to at least have the holes fixed, since I can't afford a new ball right now. Oy. One more thing on the to-do list.
Had an odd experience this morning that I didn't much care for. I'm having a bit of an issue with low blood sugar lately, but this morning, on my way to work, it got bad. Bad enough that I pulled into Sprouts market and picked up some honey-sticks. Sure enough, after downing one I felt better. Got to the office and ate a few almonds... got better. Now I've had breakfast and I'm feeling ok, though my head is still a bit wonky. No fun.
Today, after picking up Beth from track practice, I'll be hitting the gym for leg day. I WILL GO TO THE GYM FOR LEG DAY. I WILL. I will not blow it off. Then tomorrow I will strategize meal plans & grocery shopping so that I'm fully stocked next week. I also plan to set up a goal schedule to continue in Operation Marshmallow Fluff and become Summer-Ready.
Wednesday, 3/17/2010:
Gym last night was cardio. I jogged to the gym, then did 15 min on the elliptical, slight cool down, then 15 min. on the treadmill, then slight cool down, then 10 on the stair master. Then stretching. And I didn't have to use my inhaler!!!! Yay! Then I jogged back home :-) I LOVE being so close to the gym! Once home, I made soft-taco/burritos for the family (mine with whole grain wrap), black beans, chicken (from sunday's food prep), veggies, yum! Mine had fat-free cottage cheese in lieu of sour cream & cheddar. Then I added some mashed avocado for healthy fat. After, I was still starving, and oddly craving fruit, so I had a banana... then a grapefruit. Satisfied at last :-)

Bethany has joined the Track team at school. Yay! Yesterday was her first practice. Haven't gotten the schedule yet. Hopefully our nice spring will hang on and it won't get too hot for the track meets. After all that weird "winter" weather we've just had, today is supposed to be 85

°F. Nice!

Today's food is in the cooler. Breakfast complete. Still have to figure out dinner for tonight (bowling night). Hopefully I'll have time to make a wrap before dashing back out the door. And, hopefully, I'll bowl better than I have been lately. Yeesh.

Tuesday, 3/16/2010: Can you believe I'm down to just a couple boxes??? I am almost to my holy grail! Once payday hits, I'm back to Godiva, Bath & Body for bubble bath, get new candles, load up a new chill-playlist to the iPod, and pour a lovely BIG glass of red wine (if my next liver test is ok), then turn on the jetted tub!! Aaaaaaahhhhhhh! I'm almost there!

We still have some purchases to make (over time)... the other couch, the tables that match, a couple lamps, book cases (yeah, lots of those!), frames for more family photos, and to replace the ones that fell off the wall.... we're almost done! The garage still contains a bunch of the owner's junk (I will not get angry, I will not get angry, I will not...), and a TON of boxes that we'll be giving to Bill's dad and Ann for their upcoming move, so once that stuff is gone, we can rearrange the garage and work on getting our "home gym" set up and chin-up bars installed. I'm a little concerned that it's dragging out too long and by the time we can start P90X, it'll be summer and too hot to work out in the garage (this is Arizona). We'll see. Also, eventually we want a firepit for the back patio and a patio set for our bedroom patio.

Last night was light cardio and upper body (chest, back, triceps & abs). Bethy worked out with me and yes, she's sore today :-) I think the weight gremlin was there last night, as every size dumbbell I needed was mysteriously missing from the free-weight area. Had to make due. My flye weight was good, but my chest press weight was too low, so instead of doing 8-12, I did 20 per set. And my overhead tricep extensions were with a 25# instead of a 30#. We did the following:

Warm-up: jog to gym, 5 minutes on elliptical.
Round 1, repeated 3x: Chest Press, Flyes, Overhead tricep extension (reclining), V-ups on bench. Rest.
Round 2, repeated 3x: Assisted pull-ups, Low Row's, Lat pull-downs (wide grip), medicine ball twists & crunches. Rest.
Round 3, repeated 3x: Bosu burpees with pushup and press followed by immediate bosu plank. Rest.
Abs, repeated 2x: Deep incline crunch, back extension with weight, crunch with weight, oblique twist.
Stretch.

Monday, 3/15/2010: The house is shaping up nicely. Slowly but surely we're emptying boxes and getting organized. Woke up this morning though, to discover that two of the pics we hung yesterday decided to drop. We'd used those stick-on hanging things... blah. Today's food is a bit odd. No grocery shopping yesterday (payday can't come soon enough!), so I'm making what we have stretch. My cooler contains good clean eats, just not my usual choices, lol.

Tonight's dinner will be Tomato Soup (recipe page) with chicken on salad. I love knowing that the chicken is already done (Sunday Food Prep!). Yay! And the Tomato soup is (ha ha) souper-easy to make :-) I plan to hit the gym after work, we'll see how that goes. The kids are back in school so there may be some schedule juggling.

Sunday, 3/14/2010: Yesterday was the 5k walk. Had a blast! Tab & I both wore green wigs, embarrassing the bejeebers out of Shi & Olivia, LOL! Here's some of the day. plus my dinner plate :-) You can view all the photos on our photo page. Today we did more unpacking including hanging the family photos, yaya! Really starting to feel like home. Getting closer to my holy grail!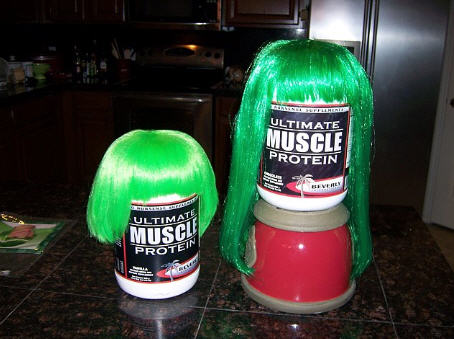 had to steam the wigs to straighten them.

Our team shirt & bandana with the wigs, and a starring appearance by my favorite protein powder :-)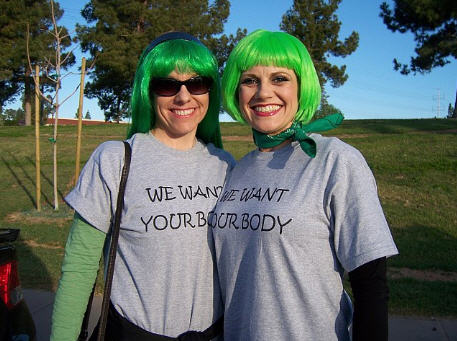 Tab and I :-)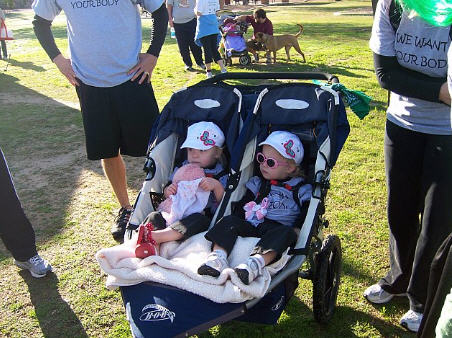 Our youngest participants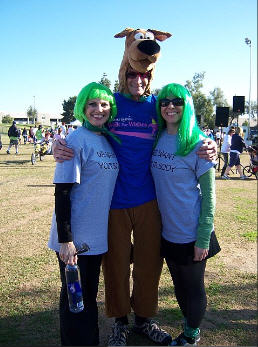 Me and Tab with Scooby!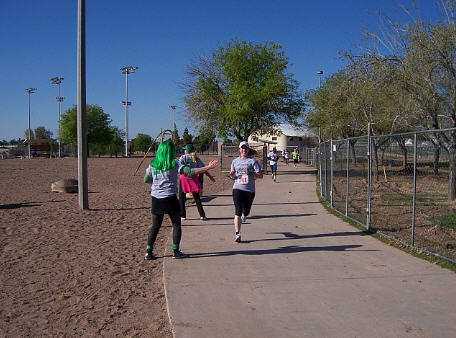 Taking a break from our rigorous walking to cheer on our 5K runners!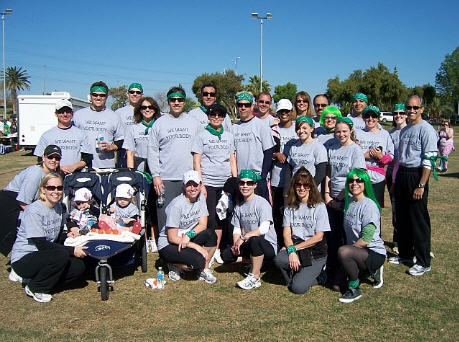 Our group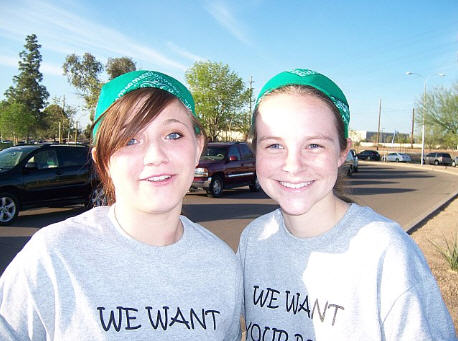 Shiloh & Olivia, "Do you know how early this is, Mom????"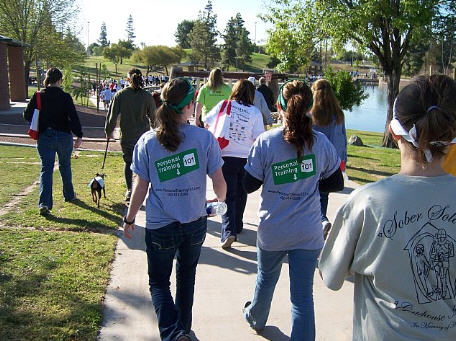 Shi & Olivia desperately trying to pretend they don't know me :-)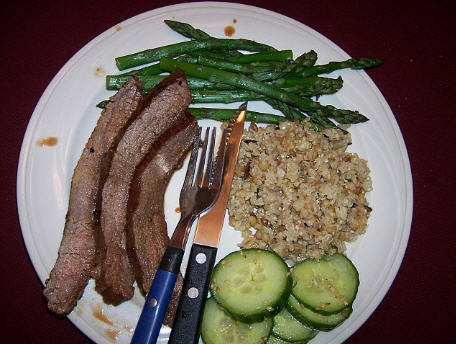 Awesome dinner... Soy-Maple glazed flank steak with steamed asparagus, vinegar cucumbers and my whole grain/rice concoction.
Thursday, 3/11/2010:

Hitting the gym after work today. Then we'll be having clean baked ziti for dinner :-) I'm tracking my food, and somehow I'm a bit off... my protein is just a tad too low on average. I'll spend some time this weekend fine-tuning my food, as well as doing uber-research on the glycemic index of what I'm eating and making a list of liver-friendly foods. Only 2 more days until the 5k! Woohoo! I may only be walking this one, but it's going to be fun. And I'm determined to run the next (whether my knees like it or not!). :-)
Tried a new flavor of Kombucha last night, then another this morning. Last night was Raspberry, and this morning is Botanic No. 9. Both are way too fizzy for me. It takes a good 5 minutes just to be able to open the bottle without it exploding (and really, what does that same carbonation do once it hits my belly? Yikes!). The taste is ok, but that crazy carbonation is a turn off. I'm already noticing belly-bloat from it this morning (I don't drink carbonated beverages, except for Kombucha), which I seriously do not care for.
I have been noticing, with getting back in the gym, that my belly area in general is tightening up again. Yay! Hate that loose skin, but low profile is a good thing! And with continued mega-moisturizing, my scar is becoming more faint. I am assured that when my money-tree grows back and I get my tummy done, the scar will be removed all-together. But until then, I am stuck with this visible reminder of my "magic-shortcut" mentality.
Have I posted about that scar? It's from a bout of Lipo-Dissolve that I was foolish enough to purchase thinking that it would get rid of all that belly fat (which of course they assured me would happen)... who needs a healthy lifestyle when you can have that unsightly fat zapped away! I had already lost a bunch of weight, but still had a ways to go before reaching my goal. I was frustrated with my tummy region, and thought, "Hey, this will just melt all that fat away!". So I bought a package. They take teeny-tiny needles and inject "something" into your belly area... hip to hip, above the belly button to the pubic line... many, many injections. They then pack you up with ice and send you home, where your abdominal area swells to 7 mo. pregnancy size and your skin burns like fire. This goes on for a few days, then the swelling subsides and miraculously, you are smaller in that area than before. Now, in all fairness, it did work. The question I ask, in hindsight, is where exactly did all that dissolved fat go?
Anyway... the scar. So I was back for my needle torture, and the technician screwed up. The needle did not break the skin until he hit the plunger, therefore the fluid went just under the skin, instead of deep into the fat. Much panic & scurrying around (leaving me lying on a table wondering WTH was going on), then I was given instructions to keep it clean. ??? Yeah. So I went home, and over the next 24 hours watched this thing bubble up like a cyst, then collapse into a crater! I went back, and saw the Doctor on staff, and she gave me a prescription for strong antibiotics. Told me to keep it bandaged. After 10 days, it was worse. I went back. Another prescription, plus a homeopathic tincture to apply to the area twice a day. 10 days later, MUCH worse. This went on for quite some time. Finally after several months of fighting with this open, oozing sore (sorry, TMI), I finally came to my senses. All these rounds of antibiotics had killed off my gut flora... I was getting food poisoning at least once a month, and I was still not healing. I went back to what I KNEW worked. I got out the EMU oil. Threw away the tincture (which by the way, burned like hell!), threw out the antibiotics, cleaned it up then applied emu oil. By morning it was closed. Yeah, it worked that fast. Emu oil is a miracle worker, and I'll address it further another time. Over the next couple weeks, the site quit oozing, completely healed over, and the redness began to fade, but the scar was ferocious! 2 years later, it has faded with continued applications of Emu and other moisturizers, but it will never go away (without surgery). My reminder that there are no shortcuts. Diet and Exercise are the key to a lean physique. Period.
NOT FOR THE FAINT OF HEART.... I have photos of my wound from Lipo-Dissolve. These were taken in February 2008. The last photo is what it looks like now (and you'll see why I want that tummy job! Yeesh!).
Photo 1 Photo 2 Photo 3 Photo 4
Wednesday, 3/10/2010:

40 minutes of cardio yesterday... 20 on the stair-monster, then 20 more on the treadmill. Heart-rate didn't go over 176, so that's good. Had to use the inhaler once. Blah. Sore today from Monday's workout. Abs!! Yeah baby! :-) Dinner last night was a bison wrap... whole wheat tortilla, spicy mustard, shredded cabbage, sliced red pepper, grilled bison, sprouted sunflower seeds & reduced fat feta & a coconut water. Yum. Still too low on my water intake, though.
So, I've got a question for you... How do YOU distract yourself from a worry? I'm an information-junkie. I research things like crazy. The problem with that, is that the more I learn, often, the more frightened/worried I become! There's a lot to be said for the Ostrich! That whole head-in-the-sand thing would be handy about now.
I have a responsibility to educate myself, I have a responsibility to then use that education to better myself. Right now, I'm just freaking myself out. Not smart. And certainly not conducive to a good night's sleep. I think the root of my fear is that I have had bad "medical" news before. I was horribly misdiagnosed once (and the Dr. baldly left this misdiagnosis on my answering machine, 5pm on a friday, so there was no one to talk to until monday!). The actual diagnosis was bad, but not what they originally told me it was. Anyway, I remember feeling so at-sea that weekend. Information wasn't available to me (no internet), and I spent that whole weekend in a cold, helpless panic. I never, ever want to go through that again. So, I research. I educate. And right now, I wig out. Not sure this way is better. Lol. What do you do? How do you keep yourself from obsessing? Give me some suggestions folks!

Tried a new Kombucha today, Botanic No.7. This flavor receives a thumb's up. So far my favorites are the Cosmic Cranberry, Divine Grape (and I don't like grape!), and Botanic No. 7. I have a few more flavors to try. So far the only one I haven't cared for was Gingerberry, partly the flavor and partly the monster mushroom that I couldn't seem to avoid, the little bugger chased me around the bottle determined to slip through... Ew! Kinda grossed me out. Lol.
Tuesday, 3/9/2010:

For those of you who love ROCK music, and aren't opposed to something a bit different... you have simply got to check out Rock Sugar. OMG! I just ordered the album and can't wait to get it! So fun!! They take the lyrics of one song, and perform it to the music of another... example Shook me like a prayer... yeah, that's an ACDC song mashed with Madonna's Like a Prayer! You can listen to samples on their site. Hysterical!
Plugging along on the website modifications... some pages have become too big, and have now been split (Food Plan Page, Easy Food Swaps, and What's In My Cooler are all separate pages now).
I did get into the gym yesterday, Tab & I did our planned Chest, Triceps, and Abs. I have to say, it's funny to watch the way the trainers watch us. And having a gym-buddy is the BEST, but having the World's Greatest Trainer as your gym buddy... AWESOME! :-) Today will be cardio.
Food last night finished strong... after my workout, I had tilapia & golden beets.
Here's my FitDay chart: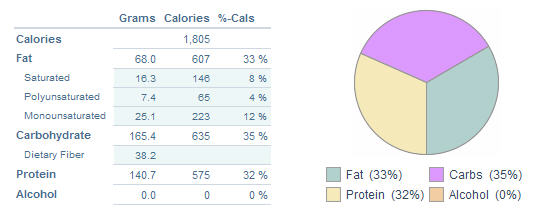 I'm back to keeping a meticulous journal of my intake. My doctor called yesterday with the rest of my blood work. There were a couple readings that concerned her (and me!) so I'm logging everything for two weeks, then re-testing. Hopefully it's lab error.
Monday, 3/8/2010: Off schedule a bit due to some print-order/meeting chaos. It's almost 11 and I'm just now eating breakfast. Not so good, but also not the end of the world. Sunday's food prep went smoothly. And yes, I stocked up on meat. Whole pork tenderloin was on sale so I got one... thing is freakin' huge! It's in the freezer, along with 2 london broils, 2 pounds of ground turkey, 4 pounds of ground bison and 2 bags of chicken breasts. :-) Won't catch me unprepared this week! Or next, or the week after.... LOL!

What I prepped this week is: Hardboiled eggs, Lean pork "chops", bison steaks, and I have a 2# flank steak in the fridge to do the maple-soy recipe again, and a pound of ground turkey for a baked zitti (with 1# of brown mushrooms to chop and mix with the meat to make it go farther). Veggies this week are asparagus, broccoli, zucchini & yellow squash, plus beets, kale, etc. Fruit... grapefruit & oranges from local trees (translated, FREE!) and bananas, along with my usual berries & strawberries. My grains... I did another batch of kitchen sink grains... wild rice, wheat berries, quinoa, and pearl barley mixed together with a 1/4 cup of hemp seed. Very tasty. Contents of today's cooler can be found on the Today's Cooler page.
Workout today will be upper body.... chest & triceps along with abs & cardio. I'm hoping to workout with Tab, but we'll see how scheduling goes. The kids are out of school this week with Spring Break, so my car is in high demand, lol.
Lots more unpacking got done. Holy Grail is getting closer! :-) Took lots of pics during food prep...
Saturday, 3/6/2010: Bill came safely home after his experiments. Lol. Oh, the many uses of nitrogen. I had my leg day with Tab. OMG. My but & hamstrings are so sore! Good sore, but yikey-doo! My knees are hurting, but not "injury" hurt, just rehab hurt. Gonna have to go carefully there, to be sure I don't screw them up again. I'm waiting for the technology that will rebuild me and make me better (he he he). I will be Jaime Sommers.
So, while my lower body recovers today, I will be unpacking. Going to start with the dining room, finish off the kitchen, do laundry, then move upstairs and unpack my closet. I would like to make it over to the gym for some cardio, so we'll have to see how it goes.
Friday, 3/5/2010: Today is leg day (yikes!), and I get to work out with Tab :-) I'll jog to the gym, which is an ideal warm up, then be ready to roll. Bill is playing Mad Scientist today. He's got his grubbies on, including his "It's all fun and games until somebody loses a nut" squirrel tee-shirt. He'll be playing with nitrogen and making various concoctions. I don't know what's worse... when he does these experiments in the garage at home (please don't blow up the house), or when he does them away from home. <sigh> He's determined to find the right mix to make his product. As he's walking out the door he tells me what he wants on his tombstone: "Did it work?" Sick. He's a sick guy. Lol.
Bethy's last game was yesterday. They won, and played well. It was exciting to watch. The mascot was there and doing his part to keep the crowd revved. A giant stuffed mountain lion, and the kid inside was hysterical. Great spirit! It was a great season, and the kids all experienced terrific growth. During the final game, a couple of the girls even used a jump-serve! In 8th grade! And they nailed 'em! Very cool.
I'm off to grab some food and a great workout!
Thursday, 3/4/2010: By the way, I'm doing a small bit of technical redesign on the site, so if things look a little different, that's why.
Today started shaky, Bethy missed the bus and I had to drive her to school (2nd day in a row), so I was a half hour late to work. Ugh. Her game last night was awesome, she performed consistently throughout game 2 & 3, then won the game with the final Ace serve! Yay, Beth! Woohoo! Today is the last game :-(
Cooler today is full of good eats. My usual breakfast of oatmeal w/protein powder, ground flax, cinnamon, bee pollen, berries & today a small banana. You can see the rest of my food on the Today's Cooler page. I hope to get to the gym, we'll have to see how long the game lasts.
Took a pic of the entrance to the new neighborhood :-) Gotta love those mountains!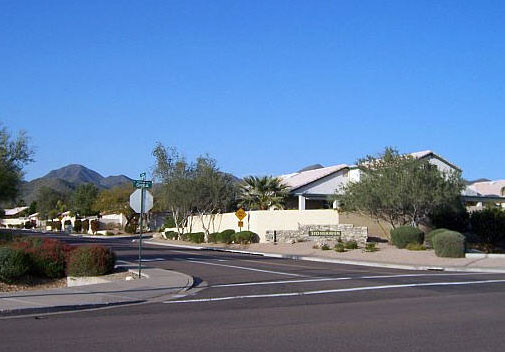 Wednesday, 3/3/2010: So today's topic is "NOW WHAT?". Oy! Remember all that awesome food prep I did on Sunday? And my plan to hit the gym after work? Best laid plans, right? :-) Shortly before leaving the office I learned that my son (who lives on his own now) was coming by to see the new place. --Quick choice moment, Gym or Joey... duh, Joey.-- Obviously Mom, who still isn't sure the boys are getting enough to eat, or eating the right foods, or... you get the idea, anyway, Mom says, "Stay for dinner!". New dilemma, What's for dinner? It'll be me, hubby, and 5 hungry teenagers (ages 14-18). This will require a lot of food. But I don't want to be stuck in the kitchen all night, either. Hmmm. Sunday food prep. Out came the tray of pork chops I cooked on Sunday, into the casserole dish they went, topped with some more Raspberry Chipotle sauce and into the oven to warm up. Out came the mashed butternut squash - added 1 Tbsp butter, 2 Tbsp maple syrup per recipe (btw - total fail... yuck!). Quick saute 1.5 pounds of green beans in dark sesame oil and steam 2 pounds of asparagus in my steamer bags with Mrs Dash. Next I started a pot of water for the flavored pasta we got at the Farmer's Market. Tossed with olive oil.
Awesome dinner. Empty plates. Good time with the kids. Yay! And as we're waving goodbye and I head back in to clean up, it hits... Now what? It's Tuesday, and I just served up my prepped food for the whole week! Yikes! Good thing I also grilled that london broil! It's going to come in very handy now!
However, the main point was that because of my Sunday Food prep, I was able to feed a fabulous meal to unexpected guests on a moment's notice. If I have to scramble a bit later in the week, fine. So what? I know how I've felt before when I had to feed an unanticipated crowd... STRESSED. This time... not! I enjoyed the time with the kids, I served an extraordinarily nutritious meal that everyone loved, with no fuss! Sunday Food Prep... it is my friend. :-)

In the meantime, today's cooler, despite my momentary panic last night, is well stocked. Breakfast was my usual oatmeal concoction with the addition of a couple hard boiled eggs, then I've got my olive tapenade & turnip slices with a bit of lean beef for protein, lunch, snack 2 and dinner are all in there (Today's Cooler page). No gym today, it's bowling night - which is why dinner is in my cooler. No worries. Not going to stress. At least, not right at this moment, lol!
Tuesday, 3/2/2010: Seems like everyone around me is sick! Yikes! May have to invest in more Kombucha! Made it to the gym, though Tab had a last minute schedule change and couldn't make it. I did 40 minutes of cardio on the treadmill, then stretched and headed home to make dinner.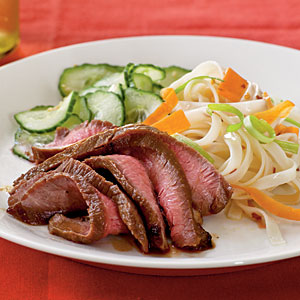 We did a new recipe out of the current Cooking Light magazine. The steak was awesome, though I had to use my Foreman Grill as we've misplaced the broiler pan, LOL. The rice noodles were "eh"... they'd have been better warm/hot & tossed with the maple glaze instead of vinegar. The cucumbers were wonderful.

We'll for sure have the steak again! Though 1 pound wasn't enough for my family. Next time I'll double it. I actually have the leftover cucumbers in my cooler today to munch on! :-)

Today, I'll be hitting the gym again. And dinner will again be easy to put together since all the components were prepped on Sunday. I'll let you know how it goes :-)

Also... I finished my entry on starting over. You can read it here...

Monday, 3/1/2010: Oh! Forgot to mention... I had my annual "woman" check up on Friday... (yuck, I have to schedule the boob-crusher appt... blah), but they ran my cholesterol. Now, while the numbers were slightly better than last year (post weight loss), the last time we ran that bloodwork was in 2005. Here's the change:

2005:
Total: 228. HDL: 58, Triglycerides: 158, LDL: 144

2010:
Total: 177. HDL: 64, Triglycerides: 45, LDL: Didn't read, it was so low!

Eating right and exercising makes a HUGE difference!

And though I failed the pulminary test (damn asthma), and have to go on meds (damn asthma), the cardio reading was strong... my doctor told me they only see that result with athletes. Wow! Awesome!

Still don't have wireless at home, so I'm without internet to update on the weekends. Hopefully this will be remedied quickly.

Moving on... lots to update! We finally are out of the old house... a marathon cleaning day involving over 2 gallons of bleach, several toothbrushes, scrub brushes, sponges and a few ruined sets of clothing. Even Shiloh's best friend Olivia came over to help (and was VERY helpful, Thanks Liv!). The garage floor was finally dry enough to start moving stuff off the back patio into the garage on Sunday (after a lot of rain on Saturday, nice eh?). And many, many boxes were moved from the house into the garage, too... Hey! I have carpet! Who'da known? LOL.

Last week wrapped up the first push of Operation Marshmallow Fluff! Despite the chaos going on, I made it into the gym 3 times! And best of all, that was 3 times with Tab! Gym Buddies Rock! I got in two cardio sessions and one upper body (back and biceps) workout. Today begins week two... and tonight's workout is cardio and chest/triceps. Woohoo!!

And, Sunday I was able to do my Sunday food prep! Yay!!!! I've got good clean eats for everyone in the family and I feel like me again! LOL! This morning's breakfast was a slice of whole wheat bread, oatmeal with protein powder/ground flax/cinnamon/fresh berries, and a Kombucha (half). You can see the rest of my food on the Today's Cooler page.

Ok... photos! Here we go. Below we have my new Counter of Chaos

™, my Sunday food prep, etc. And as you can see, we're still unpacking, lol.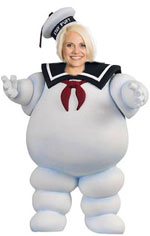 Now that the temporary is over, and I am returning to the gym, I am struggling to regain my cardio level, my strength level, my disciplined schedule. It's hard to regain what has been let go. And while I maintained my weight, I lost my shape. Hence Operation Marshmallow Fluff. Yes, I now resemble a size 0 marshmallow, lol... see, I even have a photo! :-)
Anyway, I have found myself (while sweating it out and pushing through the burn) thinking, "it's just not worth it to take the time off, to let it go! I have to just make it work in the future... no more breaks!" But that's wrong. Life happens. $()&** happens. I'm not superwoman, I'm just Chelle. My nickname may be InkGoddess, but sadly, the moniker does not imbue me with any divine supernatural power to add energy & hours to my day. It is what it is. Sometimes as I juggle things in my life, I drop balls. Sometimes I have to choose between a kids' sporting game or my gym-time, sometimes the choices I make result in my current marshmallow physique. It happens. And it's temporary. I refuse to beat myself up because I packed up my house, took care of my family, was THERE for my family, attended children's games, managed two homes for a couple weeks, then completed our move. Oh, and I'm not unpacked yet. So what. I'm a healthier me, even without gym time, when I understand that sometimes it's ok to drop a few balls. And now, as things settle down, I'm able to work on Operation Marshmallow Fluff. My success there will happen. I'm not going to stress over it.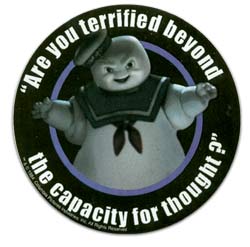 Thursday, 2/25/2010: OMG, I woke up at about 2:30 this morning and my abs felt indestructible! I mean bullets could bounce off! LOL! Crazy! Of course by 6am they were just whimpering.
I'm a little miffed this morning... I just got stiffed on another freelance job. You can bet I'll be taking deposits/retainers in the future.
Today will be leg day for me, plus some cardio. Operation Marshmallow Fluff. While I'm not anxious to do legs (lol), I am so ready to get in the gym :-) This will be twice in one week! Ha! Moving back towards normal, feels good! Today's food is on the Today's Cooler page. I'm seriously unbalanced in my diet right now, but I am going grocery shopping this weekend and will be back to my usual Sunday routine! Can't wait!!
And, my genius husband has solved the Holy Grail Crisis! He not only got the tub working, but fixed the hot water issue as well! Smart, Sexy, and all mine! You can bet he'll be getting a (uh-hum) back rub tonight! :-) .... wait, did he rig this so he could swoop in, fix the problem and be the hero knowing he would get a reward? Hmmmmm.... possible, he's sneaky! :-) Doesn't matter, my tub works!!! Woooooohoooooo!!!!!
Wednesday, 2/24/2010: I had planned to hit the grocery store after work, but I had an opportunity to begin Operation Marshmallow Fluff with Tab and I took it! :-) We did 30 minutes of cardio (10 stairmonster, 10 elliptical, 10 treadmill), then abs. And let me tell you, my abs are SCREAMIN' today! :-) Awesome!
Downside, no food in the house. Managed to scrape together a few meals, but now I'm kaput. And I have to figure out dinner for tonight (bowling alley). Ugh. I did manage to snap a pic and post my cooler on the Today's Cooler page.
Didn't get any unpacking done last night, but I did discover that my holy grail has been denied to me. The tub doesn't work. No hot water, no functioning jets. You can guess how I feel about this.
Crazy day, super busy... gotta run.

Oh... here's a pic of my goofy dog, Nakki. For some reason she decided the mattress pads were her special hiding place.
Tuesday, 2/23/2010:

We slept in the new house last night! Woohoo! Still a lot to do, but we're in! And the guys were there this morning to do the final coat on the garage floor! And, HA! I found 3 more boxes of books that had mistakenly been put in the master bedroom, Lol! And I bought another one yesterday, but I had to, it's the new JD Robb :-)
Food today... I started off by cooking for the first time in the new house! Browned the bison for my bison chili. That's cooking away in the crockpot today. My cooler food is seriously thrown together, but I'm working on getting back on track. Breakfast is a whole grain bagel (not something I normally eat) with reduced fat cream cheese, 1 cup fresh cut fruit, and 2 whole hard boiled eggs and 2 more egg whites. Snack is edamame w/sea salt. Lunch is steamed chicken & veggies with multi-grain rice & quinoa. Next snack is lunch leftovers, lol. Then on home to my chili. (After we make another run from the old house to the new one).
I'm getting closer to the holy grail! My bath tub! :-) Once all the boxes are unpacked and the cleaning of the old house is done, I am taking the world's longest bath in my jetted tub! :-) Gonna pour myself a big glass of Erath Pinot Noir, have a couple pieces of Godiva dark chocolate, light some candles, turn on my tunes - either Loreena McKennitt or Minnie Driver's Sea Stories.... it's going to be AWESOME!!!
Also, Operation Marshmallow Fluff is about to be underway! Lol. Tab & I are going to turn this marshmallow into a chiseled goddess of fitness :-) I'm thrilled that my weight has maintained during my time of inactivity, but I am so ready to get rid of the softness!
Monday, 2/22/2010: Wow! Move-in is nearly complete! Once we have heat & hot water, we're moving our pillows and overnight cases and we're in! Yay!!! I snapped a bunch of pics and you can see our progress on the photo page here, but wanted to reiterate that I have a lot of books. :-)
Food is sketchy today, I had egg whites for breakfast with salsa and a banana. Snack was some whole grain crackers. I'm going to run out and do errands shortly, so I'll hit up Red House for lunch, or maybe grab some sushi at Fry's when I go there. Can't wait to get settled so I can get back into my routine! This life-in-flux stuff is for the birds! I'm ready for my normal! :-)

Saturday, 2/20/2010: Big furniture moving day! How's the move from hell going? Let's see, we went to the house yesterday morning with a load of boxes, only to discover that the junk was still in the kitchen! WTF??? We unloaded everything into appropriate rooms, and I spent an hour cleaning... wiping down counters, scrubbing walls and doors, etc. They fixed the drywall in Bethany's room but there's drywall all over the floors. So we leave, Bill talks to the landlord, and they're getting the stuff out. Yay. I had a great time with Tab, really needed the break, the girl-time, and the godiva :-) Around 3, Bill and I took another full load over to the house and YAY!!!! the crap was out of the kitchen!!! But then.... @#$#%!!! It's all out on the patio now! REALLY??? Another call to the landlord, and it gets better... the garage? They have another coat to put down on TUESDAY then it will be at least a week before we can walk on it!!!! ARE YOU KIDDING ME!!! For real? Yep. Can't make this stuff up, people! And today? He's having a yard sale... while we're "moving in"!!!! WHAT? Yeah, and since the garage is inaccessible, my "storage" goes onto the patio... if there's room! OMG! Whatever. All the big furniture and heavy boxes are going in today. Period. Today we have help & trucks, so it's going. We can't physically move in until monday when the gas is turned on (no hot water or heat), but all the stuff... it goes today.
Wish us luck!
Friday, 2/19/2010: Scraping the bottom of the freezers now! Lol. I don't want to buy groceries only to move them, so it's getting interesting. We did hit the grocery store last night after the game to pick up dinner and Bethany begged, "please, no more chicken!" Lol! Freezer burned shrimp, it is! Just kidding. I'm tossing everything freezer burned, when did I buy calamari? Yikes!
We're taking apart the furniture in the bedroom now, and moving that over to the new place (please god let us be able to move it in!). I'll be transferring kitchen stuff later today. Best news of all is that I'm having lunch today with Tab! Woohoo!! Lucy & Ethel together again! It's been forever since we've been able to get together. Yay!!! It's definitely girl-time!
And totally off topic - anyone watch Tiger's long-winded public airing of too much dirty laundry? Hear all the "Where was Elin?" comments from the reporters? I say, Go Elin! I respect her more for NOT being there. All that "stand by your man" crap goes both ways, mr reporter dude... Tiger should have stood by his woman. She has no "responsibility to the public to show her support and/or forgiveness". Are you kidding me? That's not on her! Sometimes these reporters just make me wanna shake them!
Ha. Ok, no more soapbox. ;-)
Thursday, 2/18/2010:

New Note to self... when applying loose powder to face, do NOT inhale. Yeesh! I'm on a roll with these dorky moments! You'd think I was blonde! :-)
Today's cooler is skimpy but clean. Because I didn't do my full Sunday routine I ended up short at the end of the week. Ran out of protein :-( BUT... I can still make it work! I've got Low-fat cottage cheese with raspberries for breakfast, my two snacks are edamame and siggi's yogurt w/an apple, and for lunch I'll go to my favorite clean eating restaurant, Red House and get steamed chicken, veggies and brown rice. Honestly, I've tried to pound out my chicken like they do, but I just can't duplicate it! It's awesome! And it's been several weeks since I've been there, so I can't wait!
Tonight Bethany has a game, so I'll be going from work to home and picking up Bill, then heading over there. I'm fairly certain it'll be dark before we get home, so a run is out (it's general safety, there's been a predator in our area at night, therefore no running at night since I run alone). I'm stiff from my last run, so I'll do some yoga stretching before bed.
Hopefully we'll get to start moving stuff in on Friday. The landlord epoxy'd the garage floor... which is great, but he waited until after our lease took effect, and so we can't touch the garage floor until at least tonight, Bill is heading over there today to check on it. AND, all the crap that was in the garage that he (landlord) was supposed to get rid of??? It's in my freakin' kitchen! I'm so frustrated! I just want to move in! I was going to go over last night and clean so we could move my kitchen today, but I couldn't access the kitchen! ARGHHHHHHHHHHHH! Seriously??? Are you #$%@#$@ kidding me???!!!
Ok, kinit fit done. Moving on. Drinking tea and getting to work.
Wednesday, 2/17/2010: Update 12:05pm: Note to self... when spraying 3M's Super 77 spray adhesive outdoors (so as to avoid nasty fumes) be very aware of which way the wind is blowing! LOL! Bad hair day has been redefined! :-)
9:00 am: Wasn't able to hit the gym, BUT I was able to go for a run! Woohoo! No idea how far, as I haven't driven it yet, but it took 30 min. I was really pleased with how far I could run before having to walk & lower my heart-rate. 192 to 165 in less than a minute! Good recovery time. :-) I find it a bit awkward to run outside though... beyond the asthma irritants (like fresh cut grass... that was not fun), I have to put my cell phone and my inhaler in my bra (lol, plenty of room in there, but still...) and I haven't figured out how to carry a water bottle without throwing myself off balance... I know, I'm a dork. I much prefer the gym treadmill. But I can put my stuff on the little holder and the treadmill keeps my pace steady.

Still... it felt so great to get out and run! And I'm sure eventually I'll establish a rhythm and be able to run outside.
Today would normally be bowling night, but it's my turn "out"... I'll pick up Bethy after her away game, get a few necessities at the grocery store, then head home and finish up the kitchen. I'll head over to the Alley to pickup Bill around 8, so that gives me plenty of time to get stuff done.
Tuesday, 2/16/2010: Final Walk-Through this morning! Yay! Though, the house still isn't "clean" and no painting has been done, there is still junk in closets, etc. But the contractor's were there and working so that's good. The new epoxy should be done by Thursday, then we can begin putting stuff in the garage. What a cluster! Yeesh. I'll be so glad when it's all done.
Didn't make it to the gym yesterday, ended up having to go back over to the new place and follow up on APS... flip breakers, check lights/fans, etc. I'm hoping to go for a run tonight. The 5k is on March 13th, I don't have enough time to train for the run (or I should say prep my knees & shins!), so I'll be joining the walking group. Shiloh and her best bud Olivia are joining me and Tab plus the rest of the team, so it's going to be a lot of fun!

The link to our team page is HERE. You can click on either Shiloh Jacoby or Chelle Stafford to see our individual pages. :-)
Today's food is good... going to try to up my water intake today. I've had a headache for a few days and think it's probably from not drinking enough water. That ends today! :-)
My weight is maintaining, without the exercise, but I've lost muscle and definition. :-( This is an area I really need to take back control.
Monday, 2/15/2010: There's still furniture in the house from the previous tenants! Oy! There' still stuff in the closet! Today is the official first day of our lease and we can't move in! Argh! On a happier note, we did find all the furniture we were looking for. Spent all day yesterday driving around town searching for items that will meet the needs, as well as be financially do-able. Ironically, we found everything in one spot... the spot we almost skipped! Lol. And, one thing Bill really wanted was a

"back of the couch" table and while we've looked and looked (I really think we may have hit every furniture store in Phoenix Metro!) we didn't find anything we were absolutely sure of, until yesterday. Little hole in the wall store had some amazing items! This was all we got there, but it's so cool!
Yesterday's AZ Republic had a story that I thought was fabulous! And it was on the front page! What about? SODIUM! Yes, my favorite soapbox topic! :-) Well done, Ginger Rough! http://www.azcentral.com/news/articles/2010/02/14/20100214waronsalt0214.html
Got some food prep done yesterday. Today's cooler is on track (view contents on the Today's Cooler page). I have my gym bag in the car, and I'm hoping to be able to go after work. I've got my new cardio list done and I'm ready to try it out! The house is pretty much packed up, so other than some odds and ends, there's not a lot to do until we can actually move in... maybe that means I can get back to my gym time... I'm really hoping!
Saturday, 2/13/2010: More frustration with the move. We went over today and met with the landlord, and unfortunately, the previous tenants left more damage than first thought... And southwest gas is messing with our timetable telling us they can't get gas on until the 22nd!!! That's our heat & hot water! Dagnabbit! All the other utilities are no problem, it's just the gas. Plus, the owner is sealing the garage, so we can't even move our stuff into the garage as we'd planned! ARGHHH! I'm so disappointed! I want OUT of this house so bad, and my move date keeps getting changed, which also messes with my plan to get back into the gym. And messes with my Sunday prep because I'd packed up a bunch of my stuff in anticipation of the move.
Sigh. Ok, no more whining. It is what it is and I cannot change it by complaining. So. Tomorrow... we're looking at furniture in the morning, by afternoon I'll hit the grocery store, maybe prep a nice dinner while I'm doing some sunday prep. I'll have to unpack a few things, but again... it is what it is. I have to have clean eats for the week, and since I don't want my family ordering pizza every night, I've got to plan my prep for that too. I'm thinking sweet potato fries are definitely on the menu... the kids LOVE those! :-) And I'm thinking spaghetti squash may be a good one to prep... it reheats well. Hmmmm. Ok, I'm off to plan my menus....
Friday, 2/12/2010: Is it really only 10:30 am? Sure it isn't 5:30? Yeesh. Lots to do today, packing of course. Our move day got moved. :-( The previous tenants left a bunch of junk and the landlord is scrambling to get it all cleaned out and things fixed up. We're looking at Sunday at the earliest to start moving stuff in.
Last night's dinner was a couple rotisserie chickens from the grocery store. Thank goodness for those! Just pull off the skin, add a veggie and I've got dinner! I chopped up a bunch of purple and orange cauliflower from the Farmer's Market in a Ziploc steamer bag w/Mrs Dash, and dinner was on the table in 7 minutes. Bill and the kids added baked beans, and normally I would have added 1/4 to 1/2 cup of brown rice or similar, but with my reduced exercise I've completely cut "carbs" from my final meal (carbs like rice, pasta, etc). I figure that I'm not expending the energy, so there's no need to take it in. Once I return to the gym, I'll probably add back in that meal's "carb".
We were catching up on our tv shows last night and got the munchies, so I ran downstairs and made clean microwave popcorn... 1/3 cup of popcorn in a brown lunch bag, nuked for 3-5 minutes. Then I melted 1 tblsp coconut oil in a bowl, tossed in the popcorn & added Mrs Dash Garlic & Herb & a sprinkle of sea-salt, and did my "shake the popcorn" dance (not to be mistaken for my happy dance, they may look like the same dorky moves, but indeed they are each unique), at which point one of my daughters walked in, stopped, stared, turned around and left. Yes, my shakey-dance is not for the faint of heart. <sigh> But the popcorn was AWESOME! :-)

Thursday, 2/11/2010: Again today, food is just basic. I did make a wrap for breakfast with last night's Crockpot beef & sweet potatoes... note to self... crockpot sweet potatoes do not do well in a wrap... mega-mushy. Bleh. I should have known better anyway because I don't put starchy carbs in wraps as a rule (double carbs). Live & Learn. Tonight is "pack the china hutch" night. Please, oh please, don't let me break anything!

Woke up this morning and our bedroom was a freakin' icebox... again. The rest of the house was nice and comfortable. AAAGGGHHH!!! I can't wait to move!
I am still wigged over the no-exercise situation, but it does prove my theory... Weight can absolutely be maintained with a good clean diet alone, and Exercise is for physique (among all the other health benefits). Diet gets you the weight you want, exercise builds the body you want. First goal, move & settle in. Second goal... GYM! Third goal... P90X! :-)
Wednesday, 2/10/2010: Can I start with saying I have the World's Greatest Brother? Because I do. :-) Thanks for the email, Jamie.
Today's cooler is full, but nothing spectacular, lol. I've got standard fare, which will fuel my body and get me through. That's all I can ask for this week. (you can view the full contents on the Today's Cooler page).

Bowling night... very tempted to skip because there's still so much packing to be done, but maybe I need the break. I've got a chicken wrap packed in the cooler, and that along with an apple will be dinner. Still no exercise, but... I've got some awesome cardio playlists in the works! One is complete, and I've got a couple more I'm still polishing up.
Some interesting info... came across this site... anyone check it out? Tell me what you think: http://www.ers.usda.gov/FoodAtlas/ Additionally, if you have time, take a look at this http://www.letsmove.gov/ What are your thoughts? I'm not sure yet how I feel about this... On the one hand, educating the public is always important and our children and the health of our children are paramount. However, with the vast number of crooked lobbyists in Washington, and the deliberate mis-information being provided, how can these programs ever be truly effective? Hmmmm. Food for thought.

Tuesday, 2/9/2010: Managed to get more packing done last night. Dinner was a single piece (4 oz) grilled pork. I didn't exactly score high on the protein/carb/fat scale, but it was clean. I'll take what I can get. Today's cooler is looking sad. Breakfast was a baked sweet potato w/fat free cottage cheese & salsa w/sprouted sunflower seeds & feta.

First snack is a Siggi's yogurt & a banana. Lunch is questionable... I've got nothing... may run to Red House for some steamed chicken & veggies (super clean), then my 2nd snack is an apple and 2 hard boiled eggs. I will have to hit the grocery store today after work and prep some food tonight. It amazes me how much I'm thrown off if I don't get my Sunday prep done! Yikes!
I'm seriously stressing the lack of exercise... plus I'm in gym-withdrawal. This stinks. I genuinely enjoy (and need) my gym time, so that's one aspect, but missing all my cardio & workouts is messing with my head. I feel fat. I feel soft. I feel gross. My weight hasn't changed (that 10# thing was a fluke, yay!), my clothes all fit, but I'm looking in the mirror and seeing the old me again. Not good. Something at the bottom of that and I have to figure out what it is because this isn't healthy thinking... but when do I have time?? Yeesh. <sigh> Ok, quit whining. I'll figure it out, if for no other reason than I hate showing my girls that I'm insecure with my body. I want them to be confident, so I have to find my confidence.

Monday, 2/8/2010: So lots of balls got dropped this weekend. I did manage to get some protein prepped, grilled lean pork. And I purchased a few veggies, and I broke down and bought already-hardboiled eggs. Cooler today is lean, but that's ok. Breakfast was 3 hard boiled egg whites and 1 whole hard boiled egg w/ a few whole wheat crackers and an apple. Missed my first snack.

Lunch is a loaded salad w/chopped veggies, grilled pork & lemon juice w/ 1/2 cup of multi-grain rice. Next snack is a grapefruit and 3 oz grilled pork. Then I'll be home for dinner. I did great at the super bowl party (and my Saints won!), was able to eat clean and enjoy a couple of my cookies. I did have a few Guinness, but life is meant to be lived :-)
Today I am finally beginning to transfer my iTunes library over to the new external hard drive, woooohooo!!! Maybe by tomorrow I can sync my iPod's again!
There will be no gym today, or probably at all this week... we're moving on Saturday, so it's work, pack, sleep, repeat.
Saturday, 2/6/2010: It's so strange to have Shiloh ask for the car... weird. Bethy had her v-ball tourney today, and it went pretty good, they won one game (1 of 3). I managed to get all my cookies baked, plus tried a new recipe for brownies, AND get the office packed. The brownies, not so good. It was the recipe in the March Clean Eating magazine ... black bean. I was excited to try it, because my father-in-law is diabetic and loves brownies... but these are not going to work. They were just... off. My daughter's friend (who didn't know what they were, just that it was a brownie I had just made) said she felt like she needed a tortilla, LOL! Totally a random statement, she even looked surprised she said it, but Bill and I were cracking up, and then of course I had to tell her they were black bean brownies. Anyway, I don't recommend them. But, if anyone has a black-bean brownie recipe, or just a flourless, sugar free recipe that tastes like brownies, shoot it my way! :-)
Friday, 2/5/2010: Shiloh got her driver's license today, woohoo! :-) That is one happy girl! Between sitting at DMV for almost 2.5 hours, plus my hair appointment before that, my whole day was gone, so pretty much nothing got done. Blah. Tomorrow is Bethany's volleyball tourny, which goes from 9am to 2pm, then there's the team party after, and I've got a ton of cookies to bake for Sunday, plus packing (can't do the cheesecake, forgot I had already packed the recipe), and somewhere I've got to do my normal Sunday food shopping & prep - but not on Sunday, then Sunday is the big party & game. Time is flying by. I just want to get moved, get settled, and get back on track. I told Bill I was too busy to do the super bowl party stuff, so they need to reschedule... yeah, he just laughed, too. Lol. Oh well.
Thursday, 2/4/2010: So a funky morning led to an oddly packed cooler... I've got all my food groups (protein/carb/fat), they're just not in my usual order. Breakfast is Fat free yogurt with Kashi crackers & sliced Manchego Cheese...

kind of weird, but it gets the job done. The rest of my food is listed on the Today's Cooler page.
My iTunes recovery is going well, though slowly. I've managed to grab (I think) all my music - YAYYYYY!!! And am now moved onto TV shows...
This weekend will be difficult, I had forgotten it was Super Bowl weekend (bad me!) and I'm responsible for deserts at the party... this involves a cheesecake that takes 2 days to make, and multiple batches of cookies (these will be the Clean Eating Mag cookies). Plus I'm still packing the house, trying to plan for workouts (no asthma attack in 36 hours!!), and my Sunday Food prep, which will obviously not take place on Sunday, this week. lol. Oy.
Wednesday, 2/3/2010: It's bowling day, and since I'm NOT cheating/treating today, my cooler contains a wrap for dinner... I used leftover beef/beans and

veggies from last night's taco salad. Breafkast was similar, only I added a sliced hardboiled egg. I've also got tapenade, sliced turnips (instead of crackers), and chicken for snack, then a monster salad w/chopped chicken & wild rice for lunch, Siggi's fat free yogurt & egg whites for 2nd snack, then dinner. I'm also sipping on a Kombucha (cranberry this time, yum!), and trying to suck down as much water as possible. And I'm continuing to slowly pull my iTunes stuff off the external hard drive... I'm up to the C's! :-)
Lunchtime... I'm up to the D's now... slow goin... Here's a photo of my loaded salad :-) It tastes better than it looks... that blah colored stuff is the wild rice, lol.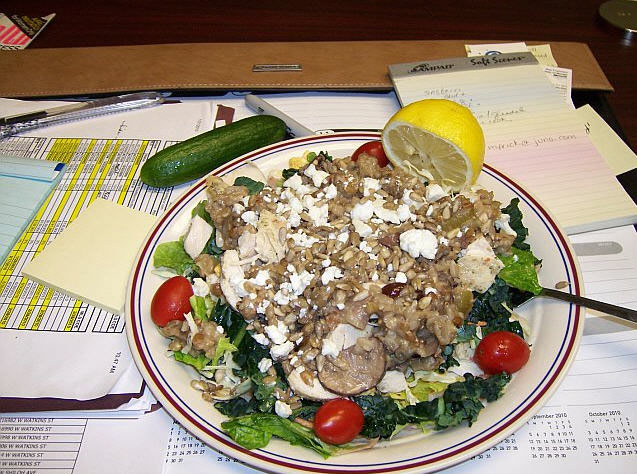 Tuesday, 2/2/2010: 9:30 pm, update: WOOOHOOO!!! I checked the mail tonight and found a package from Rodale Publishing containing the promotional "magalog" with my story! What a great boost! Woohoo! It's so cool to have been chosen for their promotional piece! Out of all the women over the years who have been featured in the You Lose, You Win for Women's Health Magazine (and to have been one of those was AMAZING), to have been picked out of that group (1 of only 3 chosen!!) for this piece... TOTALLY AMAZING!! :-) I'm so excited!
Next... the doctor's visit... so I now know why my asthma is so out of control since September. You see, I worked very hard over the last 3 years to become healthy... this allowed me to stop taking my daily preventative asthma meds, and I was only using my inhaler rarely... I mean rarely. Yay good health! And then, over the last 4 months, it's gotten progressively worse... culminating in the horrific last week I've had with it. So I hit up the doc... What's up with this, I ask... Ready? It's a shocker! The cause is...
I quit smoking.
Yep, that's right. I quit smoking and my asthma got WORSE! Know why? This is for real, I'm not making this up... shoot, you can't make this stuff up.
Turns out Tobacco (note... Tobacco, not all the chemicals and crap they add to the tobacco) is a natural bronchial dilator (which is what the daily asthma prevention meds do... they dilate the bronchials, allowing you to breathe freely and your lungs to expand fully). Without that bronchial dilator (cigarettes) my lungs are "constricted", and I'm basically a walking asthma attack.
So, my choice was to either go back on the daily meds, or try a steroid shot... I took the shot, and if it doesn't work, I go back in a couple weeks anyway for my yearly well-woman exam (oh joy), and we can determine which med to try. Oy. And no, I didn't even consider smoking again :-) Lol!
So following this, I returned to the office where I am painstakingly and nervously copying data from my faulty external hard drive, crossing all my fingers and toes, I may be able to salvage most of my iTunes stuff!!! Woooohooo!!!! Then I was off to pick up Bethy and hit the gym for volleyball drills :-) No cardio until this asthma stuff is under control, but at least I was moving. Then dinner was clean taco salad (recipe page) which was yummy :-) And now I'm going to make a cup of tea and hit up my DVR and watch Biggest Loser!
9:00 a.m.: No gym last night. No cardio. Much asthma. Damn. Food is good. Today's cooler has: Breakfast: 1/2 cup Fat-free cottage cheese w/ 1-cup raspberries & blackberries, and Kombucha (weird stuff and strangely addictive, lol).

Snack 1: Tapenade, sliced turnips (instead of crackers), and 2 egg whites (hardboiled). Lunch is shredded chicken with green salsa, steamed zuchinni & yellow squash and crockpot'd beets and 1/2 cup wild rice. Snack 2: Chicken, string cheese & an apple. Then I also have a Coconut water in there for after my workout today.
What's kombucha? If you haven't tried it, do! My instructor from the Burlesque class turned me onto it... it's a bit strong, so if you do try it, go for a strong flavor (I like Divine Grape, Synergy brand). And it's very carbonated, so if you're not used to carbonation, be aware you will get the burpies! Lol! Here's some basic info:
http://en.wikipedia.org/wiki/Kombucha and the brand I drink: http://www.synergydrinks.com/
I have a doctor appt this afternoon and hopefully that along with my newly replaced emergency inhaler will allow me to get my cardio done. I hope. Multiple asthma attacks yesterday, with the final one being at WalMart while the pharmacy took their sweet time moving my inhaler from one side of the room to the other... not so much fun, but nice to have a hubby who will give 'em hell while I'm tearing open the packaging to frantically puff before it's even paid for.
Seriously though, I can't imagine it's good business to tell someone their EMERGENCY inhaler which came through on an EMERGENCY prescription approval by the doctor, will be ready at 7:30pm, then make that person, who is in the middle of an asthma attack, sit until 8pm waiting for you to finish up your little chat and move the box from the back into the front "out" tray! Then, THEN, I got the "what the heck is wrong with you?" looks while I'm ripping open the package! Really? REALLY? Yeah, I was just doing the death-rattle/barking seal breathing for the hell of it, mostly just to annoy the people around me. Oh and the blue lips? No big deal. This is how I get my kicks. Morons! Ok, so I'm still a little irritated. Hmm. Moving on to things I have control of. I'm going to eat clean, and eat well, and I'm going to do what I can when I can. And though I've said it before, this time, I'm going to be ok with that.
Monday, 2/1/2010: Sooo much packing! Oy! So much dust! Oh, and remember Friday when I asked about the socks in the dryer? I found them! A whole box of them... all single socks! ?? And I know it's them because I just threw out a whole bunch of singles! What in the world?
Sunday food prep...

very simple, but completed. Going back to basics this week, just don't have time for anything else... I've got crockpot chicken, and crockpot chicken, lol, crockpot golden beets, steamer bags of veggies, brown rice, and I did make a pot of wild rice which I'm trying for lunch, so we'll see how that turned out. Plus my usual fruits, crackers, tapenade, etc. Today I'll get in some cardio at the gym, and hopefully do some upper body, but if I can just get in my cardio I'll be happy. I'm back to baby steps... with all the chaos going on right now, if I can just do a little, that's a victory.
I made the mistake of weighing myself this weekend and it totally messed with my head. I'm up, which I expected given all that's happening and my "routine" going out the window, but my clothes still fit (though a bit snugger, lol). However I didn't expect to go up 10 pounds! What? I haven't weighed since, so I don't know if it was a fluke, or what, but my goal is just to do what I can, when I can, keep my food clean (and you can be sure it's going to be cleaner now!), and just bide my time until the move is over and I can get back to "normal". And if that doesn't happen... well, I'll have to create a new routine. I need my gym time, not just for physique & strength, but for my own sanity & peace.

Friday, 1/29/10: Lots of packing today. Books, books, dvd's, books... lol. We're using banker's boxes (file boxes) for the books & dvd's as they're the perfect size, and I have 3 full boxes just of Nora Roberts books, plus a full box of JD Robb (Nora Roberts other pen name), another full box just of Iris Johansen, another of Maggie Shayne, then of course all the other many authors I have, plus our classics, and all the many, many other books. This doesn't include the books we already packed/re-packed in the garage (Victoria Holt, etc). Then the dvd's & vhs's... I had no idea we have so many! 300! Is this crazy? I'm thinking it is! And I'm beyond irritated by the 40 cases without discs, and the 20 discs without cases... it's like the darn socks and the washer... where do they go?? More packing tomorrow... No gym today, but I'm thinking all the trips up and down the stairs, and the squatting and heavy lifting makes up for it!

Thursday, 1/28/10: Update... 10pm. Volleyball & cardio, check. Clean dinner, check. Clean cookies.... double check. Lol. Seriously though, if you haven't already, pick up the March/April issue of Clean Eating Magazine. On the back page is a recipe for Almond Butter Chocolate Chip Cookies, then when you go to the website, go to the recipe page and get the recipe for Chocolaty Goodness cookies (click on the chocolate cookie pic below). Neither contain flour and they're both absolutely incredible! I mean, really, really good! They're easy to make, and they're clean. Yum! Both these recipes are keepers (see Recipes Page!).
9am. Ok, let's talk about emotional eating.... It's not really been a

problem for me over the last year, but it reared its ugly head yesterday. I wasn't sad or down, I was mad. And I ate. Now granted, I had planned a cheat for last night, but eating a handful of brownie bites then 1/2 a cupcake, then 2 pieces of pizza and french fries.... not what I had in mind. Damn I hate that! And, as I thought about it, I realized that's what happened Tuesday night, too! This is not the kind of roll I want to be on. So as of this moment, I'm back in control, no more angry eating. Breakfast this morning is an egg white & veggie steamer bag omelet plus a couple strawberries & 1/2 a kiwi. Snack 1: Siggi's fat free yogurt & almonds. Lunch: Chicken breast, steamed zucchini & yellow squash & quinoa. Snack 2: Kale salad w/half chicken breast.
I'm still fighting technology. It's thought that the motherboard on my computer is going bad/is bad. Maybe. And maybe the data off my external hard drive can be salvaged. Maybe. I'm going to be sooooo upset if my iTunes library is gone. In the meantime, I'm limping along at work with this computer, on and off the network. Not exactly at my most efficient.
This evening I'm picking up Bethy then hitting the gym. We'll do drills, and then I'm determined to get in some cardio in addition, and abs. Maybe I'll also do lunges while she practices her serve... I'm sadly lacking in solid gym time. And this weekend, starting tomorrow, I'm back to packing up. Woohoo! :-)
Oh... and btw... the photos of the new house are up. View here.
Wednesday, 1/27/10: No photos today, still having major computer issues. Grrrr. And I think they bled over and corrupted my external hard drive which just happens to be my entire iTunes library! I'm not a happy camper.
Anyway, did volleyball drills with Bethy last night. Had a bad dinner... pizza (not the clean kind). Blah. Today, food is back on track. I have bowling tonight, so I have to get home at some point and make a wrap for that.
Now I'm back to fight with my computer.... wish me luck!
Tuesday, 1/26/10:

Technology... if it's not a friend it's an enemy! I've been fighting all day with my computer! Oy! Now that the Scans are complete... we'll see if it stays stable. What a major pain!
Ok.... gym, I did cardio yesterday. Yay! Then we had a terrific chicken stirfry, recipe was in Women's Health mag. I'll link it up when I can.
Today food has been spot on. Eating my last snack now before I head out the door to pick up Bethany and head to the gym.
Whew.
Monday, 1/25/10:

The garage is done! Woohoo! Actually, it was done at 11:30 yesterday morning. Then I hit the grocery store and began my Sunday food prep. While I prepped, in one crockpot I had a beef stew going (clean) that definitely will NOT be made again. Just bland. Eh. Anyway, I prepped grilled lean beef, grilled chicken breast, crockpot chicken, crockpot beets, steamer bags of zucchini & yellow squash, steamer bags of broccoli, steamer bags of white & orange cauliflower, a couple of pre-chopped kale salads with baggies full of chopped veggies to go with... lots of prep :-) While I worked in the kitchen, Bill & Shiloh watched (and screamed and yelled) through the game, lol.
Today, my plan is to hit the gym after I pick up Bethy from Volleyball practice. My hamstrings feel like I did a million dead-lifts from all the packing & garage work, lol. So I'll be doing cardio, upper body, and abs.
Food today: Breakfast: steamer bag egg white & veggie omelet over wilted spinach w/black beans and salsa. Snack 1: tapenade, whole grain crackers and a banana. Lunch: Kale salad w/chopped veggies, beets, sprouted sunflower seeds, reduced fat feta, lemon juice and grilled chicken with quinoa pilaf. Snack 2: 2 hard boiled eggs & an apple.
On a personal note, I'm feeling frustrated by my lack of gym time, and I detest feeling soft. The muffin top is back and I feel defeated. Not the way I wanted to start the week. I'm trying to remind myself: It's ok to let a few balls drop. I can't always keep them all in the air. Accept the way it is now, knowing that it is temporary, and do all I can to maintain what I've accomplished. I have total control over my food, even if I can't always make it into the gym. This is not an excuse to dive into the nearest bucket of french fries. Press on.
Saturday, 1/23/10: 9:25pm... Totally productive day! While bbq chicken cooked in the crockpot, we started working in the garage, cleaning, tossing, repacking, packing, stacking, sweeping, taping, labeling... The amount of clutter a family of 6 can collect is staggering! And did I mention that I have a lot of books? I do. I won't apologize. I love books. I really love books. They take me to a happy place. I can read a book over and over again. While sorting and repacking, I came across a box of books by one of my all-time favorite authors, Victoria Holt. I found myself grinning as if I'd found a long-lost friend! Yes, I love books. And to my husband's chagrin, I'm taking them all with me... again. :-)
Dinner was bbq chicken, a HUGE salad, and sweet potato fries. Tomorrow we'll finish up in the garage, then start in on the house! 23 days until Moving Day!!! And now... I am so hitting the shower!
Friday, 1/22/10: Update, 8:15pm... Did most of my grocery shopping today, though I'll have to pick up a few odds and ends on Sunday when I do my prep. I made a bunch of fun stuff today, including Apricot preserves in my crockpot (they smell yummy but we haven't tried them yet), tomato soup (from Women's Health magazine) which was fantastic, clean pineapple upside down cake from IBS Cookbook for Dummies (really good with fresh pineapple).... mostly spent my day grocery shopping and cooking. I'm good with that, lol. I cleaned out my spice cabinets... wow, that was a mess! I had stuff that expired 4 years ago, and 4 containers of baking powder, 4 cinnamon, 2 tarragon, 2 oregano... Oy! But now it's all nice and organized, and ha ha, current.
Mid Process: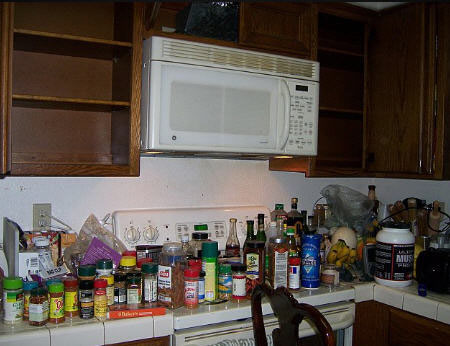 I also did quite a bit of book packing (I have a TON of books), and no gym :-( But I can do that tomorrow. Feels like a productive day. Now I'm having a glass of wine and catching up on NCIS :-)
Morning: Yay! Payday! Groceries! This storm is crazy! We even had a tornado!! Didn't anybody tell the weather gods that this is Scottsdale and we're supposed to be sunny and 70 degrees? Lol! I went to the library after I left the office and found some cookbooks... got a few recipes I'm going to try this weekend. If they work, I'll post them.
Well, after my no-rhythm-on-the-treadmill debacle, followed by my I'm-a-dork-bowling, I've spent 2 days icing my knees. So far this morning, I am without pain. Cross your fingers, I am hoping to get into the gym later today. Bethany wants to do drills and I'm thinking that'll be a nice "easy" hour, and I'd like to do abs and some upper body.
And this weekend will be pack-the-garage weekend :-) Woohoo!
Thursday, 1/21/10: Update: 12:15pm... Yep, admin glitch. Should be fixed tomorrow. Next, we've all been told to go home for the day due to the weather. What?? Here?? I look out the window and for the life of me can't remember the last time I've seen a storm like this! Holy cow! So we're packing it up and heading home to start a fire and make some tea :-)
9:00am: Ok, super frustrating. No paycheck in my account today. Assuming it's a administrative glitch. So.... don't know when I'll go grocery shopping. Blah. Moving on....
Signed the lease yesterday on the new house!! Yay!!! Never thought I'd be excited to pack, but... I'm excited! lol!

Food today... oy. Breakfast was a baked sweet potato (can you tell I had a few in the pantry?) with black beans and salsa and a handful of natural nuts. I had planned to hit the grocery store at lunchtime to grab some fresh fruit and stuff, but that's out. Hopefully tomorrow.
Also... note to self... when you mess up a knee, do NOT bowl on it! Dork! %#@$%*@#$!!!!
Wednesday, 1/20/10: One more day til payday, then I can grocery shop! Yay! Did make it to the gym last night (double Yay!), and did cardio then upper body. The tennis elbow didn't bother me at all (and another Yay!), however, here's my "Chelle's a dork" moment... If you've read anything about my burlesque class experience, you know that I am without rhythm. Truly. Now, normally, my cardio is HIIT, so I'm mixing up my playlists with slower and then slammin' tunes. But... I'm not doing HIIT for a while, I'm trying to gear up for my 5K, so I'm just trying to do steady rate and run for as long as I can.
Well, I used the wrong playlist last night. What difference does that make? Ha! Glad you asked! For a klutzo like me it's the difference between having sore knees and not being able to bend my knees! How pathetic is that? The cadence of the music was too fast for my running pace and so my stride was all screwy (ever seen a blonde with a screwy stride on a treadmill? It's a joke waiting to happen!). I had worn my patellar strap on my right knee, so it was just sore, but my left knee was screaming. I iced it off and on all night, then got up this morning and it felt so much better... until I knelt down to pick up my shoes. OMG! This over a too-fast playlist! So I'm back to icing it this morning and remixing my cardio playlist. Lol. I'm sticking with old-school tunes until my 5K is done, and saving the heavier music for my lifting.

Today, breakfast is a baked sweet potato with black beans, low-fat cottage cheese and salsa, plus blackberries. Then the rest of my food is pretty basic again... I've got several chicken wraps (spinach, cabbage, carrots, cucumber, zucchini, spicy mustard - one with natural almond butter instead of mustard - , reduced fat feta & crock pot chicken), a Siggi's yogurt, a pear, an apple, a packet of waterpacked tuna and whole grain crackers. I've got bowling tonight, so I needed food for that, too, which is why my cooler is more loaded than normal.
Tuesday, 1/19/10: So no gym time yesterday. What a mess that was. My son borrowed my car during the day to move some stuff. Then kept it longer than I anticipated, so we agreed he'd go to the airport to pick up the girls, who's flight had been delayed 1.5 hours, then bring them home. Well, long story short, it ended up being a total disaster. And of course, somehow I'm the bad guy. Now I've got one kid grounded, and another not speaking to me, and an empty tank of gas to boot.
Anyway. Hopefully today, the papers will be signed on the new house (yay!!!!). And our P90X arrived, so as soon as we're settled into the new place and have the pullup bars in, we can get started! I've been going through the food plan with a fine tooth comb and I think I can adapt it enough to still be able to do my Sunday food prep but follow their "phases". I think. I'm really excited to get started on it! :-)
Today's food... steamer bag omelet for breakfast, then lots of good stuff throughout the day (you can see total info on the Today's Cooler page). Tonight is absolutely a gym night.
Monday, 1/18/10: OK, trying to get caught up. Here's today's cooler contents... I was unable to do my usual sunday prep :-( BAD. So I'm making do with what I've got. I did prep my chicken, but that was all. So today for breakfast I had to make do with a baked sweet potato w/salsa and some grilled bison. Snack was a handful of natural almonds. Lunch was a bison sandwich, a string cheese and a pear. Next snack is a Siggi's yogurt, then I've got chicken, tapenade and whole grain bread for my last snack. Then dinner will probably be spaghetti squash with chicken (see recipe page). Payday is in 2 days then I'll hit the grocery store. Until then, I'll eke out what I can at home and get creative.
My internet went out, and remained out all weekend! I felt completely cut off from the world! I definitely rely on technology too much! My girls flew to CA for their visitation on friday, they'll be back today. I'm hoping to make it to the gym after I pick them up (they arrive at 5:45).
Bill didn't even notice the hair. Lol. Now that he's had some time to live with it, though, he really doesn't like it. Way too short. Whatever. Hair grows. :-) I like it, and I kept it blonde, so that's that.
Thursday, 1/14/10: Update 3:30pm... NEW HAIR! Woohoo! I was told by my daughter that I had "mom-hair", so I had to get rid of it. Went and saw my amazing stylist, Daniel, and got my pixie cut!




Bill hasn't seen it yet... but I kept my side of the bargain... it's still blonde, so I can have it any length (or non-length, ha ha) that I want. :-)
Bill has his business thing again today, so he'll be home late. I've got to pick up Bethy after volleyball at 5:30, then dash to the gym. I've yet to decide what to do about my workout. I've got a case of tennis elbow going, and it's making me mad. Not fun to bowl with, by the way.

It's not swollen, but it has that sudden shooting pain at rest or during movement. Grr. I think maybe I strained it or screwed it up the last time I did skull crushers. I could just do leg day today, except that a lot of my moves include my arms... So I have to figure out whether to go ahead and work the arms, or not, or just do cardio, or do legs but change up my entire routine... oy.
On a strange aside, my morning grapefruit had a personality disorder. One bite would be, "Oh, wow! This is the sweetest grapefruit I've ever had!" and the very next (in the same section!) would be mind-blowingly tart! Holy cow! Hope the rest of them aren't the same way! Lol!
Oh, and file under Dumb Blonde... note to self... when planning to wear denim, do NOT use Body Butter moisturizer on your legs & butt or you will never get your jeans pulled up and will bounce and stumble throughout the room like a one-legged energizer bunny.
Wednesday, 1/13/10: Update: 10:30pm. Yeah, it's late. I'm beyond ready for sleep but I'm waiting for Bill to get home from an office thing. Bowling went fine. Food was clean, I had carrots, lean pork, and a Persian cucumber, then lunch-bag popcorn when I got home.
9:00 am: Cross your fingers! We're moving! We hope! Everything should be signed and good to go by Jan 20. :-) Wooohooo!! We're not going far, just a few miles down the road, but it's a better house (one that isn't falling down around my ears, or crawling with roof-rats), with a larger kitchen (yay!!). And it's literally .04 miles from the gym! Awesome!! If all goes well, moving day is Feb. 15. Oy!! Soooo much to do! And what a great opportunity (ok, it's a lot of work, but...) to clear the decks! I'm going to throw out soooo much junk! There are boxes in my garage with who knows what, and they are getting tossed! You can't see it, but I am doing my happy dance (which I have been told closely resembles Sandra Bullock's in All About Steve). Lol! Wooohoo!!
Ok, moving on. My cooler is pathetic today. Overslept, have a sick kid at home, so it was truly a "toss and go" morning. I literally just reached into the fridge and grabbed baggies, tossed them into my cooler. The good news is it's all balanced, but I don't like haphazard mornings. Grr. Once I get home tonight, I've got to repack for bowling so I have clean eats there.
Hit the gym last night. Got in 30 min on the treadmill. My knees were screaming at me after, but it was worth it. Then after my cardio, Bethany and I did some skill-drills for volleyball. We were working on the bump-drop-and-roll... it was fun to dust off those volleyball moves :-) however, I did learn an important lesson... before doing these rolls, REMOVE the chest strap for the heart rate monitor. That largish plastic clip that hits right at mid back... not fun to roll across multiple times. Ow.
Thursday we'll work on more skill-drills. She wants to improve her ability to hit the floor... understandably, she has a hard time hitting the ground, as the impulse is to stay on your feet. So, Mom get's to help her learn to dive, roll, and all that fun stuff.... mwahahaha! New meaning to "Mama go'knock you down!" Rofl! :-)
Tuesday, 1/12/10: Ahhh Tuesday. That much closer to Friday, Lol! Below are photos of today's steamer bag omelet, and my cooler contents. Didn't make it to the gym yesterday due to a variety of teenagers' crisis, but WILL get there today. Swooping from here to the Junior High to pick up Bethany after Volleyball practice, then I'm ready to hit the treadmill... I just want to run and am hoping my body will let me :-/ I've got my knee straps ready, just in case.
Tonight is Biggest Loser! Woohoo! I'm amazed at what these folks are accomplishing in such a short time, though I'm always left with questions... like about loose skin. Maybe someday they'll address it... one can hope.
Monday, 1/11/10: What a crazy day! And I'm only partway through! So far though, I have managed to get in my breakfast & first snack. Lunch is in about an hour & half. I promised photos and here they are...
Sunday, 1/10/10: I'm done with the book, Skinny Bitch. Didn't improve any for me. I found that the authors consistently didn't source "proof" to their statements, but rather, just quoted other like-minded authors. I could find 5 other authors who agree with me on a subject, but that doesn't make that opinion a fact. Before I go completely off on this, I'll just say that I find it very frustrating, and frankly, irresponsible writing. Now. 'nuff said.
Onward... food prep is done. Made a pot of red quinoa with mushrooms that I can't wait to enjoy :) While I was shopping and then doing food prep (and laundry) I had a chicken white bean chili going in the crockpot... turned out fabulous! Loved that. The family add sour cream to theirs, but I just use fat-free cottage cheese, so I get the cooling creaminess but an extra boost of protein, too. Food prepped this week ... Protein: lean boneless pork chops, chicken breast, buffalo steaks, hard boiled eggs. Veggies: white & orange cauliflower, zucchini & yellow squash, red pepper strips, yellow pepper strips, carrots. Healthy fats: avocados, string cheese, organic cheddar, tappenade (chopped olives, garlic, olive oil, pepper & lemon juice). Grains: Red Quinoa, Kasha whole grain crackers for the tappenade. Fruit: apples, pears, grapefruit, clementines, raspberries.
I also did some prep for Bill... he loves crackers with cheese and meat, so I put together some baggies with organic cheddar, low sodium/no nitrate/nitrite added deli ham and Kasha whole grain crackers. While I can't enjoy deli meats (way too much sodium, even in the low sodium varieties) Bill can handle it just fine, and more, really enjoys it. So he has his snacks he can easily grab, along with the regular foods (wraps and such), and his trail mix.
I was kinda bored with oatmeal so I switched back to my steamer bag omelets. When Bill and Bethany saw me putting them together they both asked for some, too. Lol. Theirs are made with egg beaters and include Applegate Farms chicken sausage plus veggies. Mine are egg whites, mushrooms, zucchini, yellow squash, onion, red pepper and Mrs Dash. I'll nuke it then drop it onto some baby spinach (which will then wilt nicely). Yum. :-)
I'll post my cooler photos and contents tomorrow. G'nite!
Saturday, 1/9/10: I'm reading a book... I've been seeing this book for several months, quite prominent in my bookstore and library... Maybe you've seen it, too... Skinny Bitch. Looks good, right? It sounds like a fun read, and since I'm always on the lookout for good nutritional info, I finally picked it up at the library and brought it home. Started reading it yesterday. Now, I have to say, I know several vegans. They're great people, and I have no problem with their philosophy or lifestyle choices. What do I care if they don't eat meat, eggs or fish? Well, the writers of Skinny Bitch are exceedingly outspoken on what they think of people who eat meat and dairy. It's kind of off-putting. Seriously, I'm a F*#%ing Moron because I eat meat and drink milk (yeah, they said that). It's harsh, rather than no-nonsense. But ok, they're entitled to their opinion. Fine. But then they hit my cardinal sin of authors button. And now I'm just mad.
They make a statement on pg. 62, "Even if you're buying the low-fat, part-skim nonsense, more than half the calories come from fat." What? Really? Is this is true? So I look up the source in the back of the book. Rather than source the study that proves this, she quotes another author who says this. So now, to either prove or disprove the validity of that statement, I have to go find this other author's book, and look up his/her source... and HOPE that he/she quoted an actual source, not another author's statement. Can I just say that this makes me really, really frustrated? If that were a true statement, wouldn't you quote the true source? I kinda feel like someone is trying to pull one over on me.
Hmmmmm....

Thursday, 1/7/10: So today has gotten off to a funky start... First Bethany managed to get to school wearing her slippers, so I had to drive over there with shoes and socks (seriously??), then I make it into the office (where it's like a ghost town, for some reason, I'm the only one here... hellooooooo <echo, echo, echo> lol) and can't find a plug for my new electronic teapot (yeah, I'm a dork)... finally found one, but it's by the big copier so the kettle is sitting on the floor. Lol, good thing I don't share an office! Then my iTunes is having brain farts... can't figure out what's wrong with it. Oy.
Onward and upward. Bowling night complete, had my wrap and my water so no bad bowling alley non-food. Though I gotta say, those french fries smelled amazing!! Sigh.
Today is lower body day, and you guessed it, I'm dreading it. I'm doing Tab's "kick Chelle's ass" workout... hopefully, I can get Bill or Shiloh to do a quick video of some of the moves, because they're killers! This is actually the workout I was doing with the girls when the fitness director stopped me because he thought I was training them (no outside trainers allowed at the gym) LOL! He didn't believe me that I wasn't a trainer, and those were just my girls. He still gives me the fish eye when he sees me. I love the moves, I love feeling strong and powerful when I do them... so why do I dread leg day??
Bill paid me a great compliment last night... there's a woman at my gym who I greatly admire. She's got an amazing body (I'm pretty sure she competes, though is currently off-season), she works hard and has great gym etiquette. Anyway, I often cross paths with her, and though I've never spoken to her, I do observe, and like I said, really admire her. Well Bill told me that he was keeping an eye on me Tuesday when we were at the gym, and this woman and I were working in the same area... he said there was very little difference between her and I, physically, and that we both had the same "gym attitude", we knew what we were doing, where we were going, got it done and got out. Lol! Now I know that physically there's a huge difference between her and I (like about 14% body fat!) but to have Bill think we were similar... wow! Made me feel really good! :-)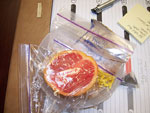 I hate swallowing pills. Lol, I know, not exactly earth shattering, but it's such a frustrating thing! Have you seen the size of vitamins? Or CLA? How about Flax/Fish oil? Holy cow! Monster pills have united and plan to take over the world... and they'll succeed because people like me keep going off the darn things be

cause they're so hard to swallow! I've tried to find a multi vitamin that gets as much in there as possible, but still I have to take additional Calcium, CLA, Flax/Fish Oil, and depending on the season, extra C and zinc.
Ugh! And the sheer number of pills is daunting... 3 multi vitamins, 1 calcium, 1 CLA, 1 fish oil with breakfast. Another calcium, CLA, and fish oil with lunch, and repeat for dinner. No bueno.
I may go off the calcium because I eat so many foods high in calcium (yogurt, string cheese, fat free milk, fat free cottage cheese, reduced fat feta, cabbage, almonds, broccoli...). The Flax/Fish, I'm kind of afraid to drop because I've been struggling to get in all the healthy fats I need to my diet. Once I get that back where it should be, I'll probably drop that, too. Might even cut back on the multi vitamin, since, again, my food offers so many nutrients (a cup of Kale has 134% of the recommended daily allowance for vitamin C, and 206% of vitamin A - not bad for 33 calories, eh?).
Anyway. That's a picture of my breakfast up there... oatmeal w/protein & stuff, and half a grapefruit, plus a cup of green tea. My day's cooler contents are on Today's Cooler page.
I did get into the gym last night (Bill went with me!) and did upper body. Sore today! Wowzer! Tonight is bowling night (dinner is in my cooler so I'm not tempted by bowling alley non-food), then tomorrow is lower body. Why is it I'd rather do quadruple upper body days than one single lower body day? Must be a mental block, because I do just fine... I get through my sets, I get sore, I see results, I simply DREAD lower body days. Hmmm. Have to figure that one out so I can look forward to those workouts like I do my others. Anybody else have that problem?
On another note... I finished the ugly quitting-smoking blanket! Woohoo! This represents 100 days of not smoking... that's 150 packs of cigarettes, for a grand total of 3,000 cigarettes NOT SMOKED! Holy cow! Click on pics to view larger.

Tuesday, 1/5/10: Hit the gym yesterday, did 30 min. on the treadmill. Heart rate was wacked, went up to 185 a couple times... I hate that (according to pretty much everyone, it should be between 135 and 160, or 70 to 85% of my max heart rate. find your range here). I'd hoped that when I quit smoking my heart rate would begin to inch down, but I'm not seeing it. Also had to use the inhaler. Grrr. Really hate that. Anyway, then I followed up with some stretch time, then headed home to make dinner. We did a recipe from Eating Well magazine... everyone else liked it, me not so much. Oh well. I had my standby loaded Kale salad to enjoy. :-)
Monday, 1/4/10: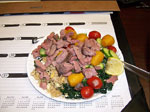 Update - lunch... here's what's in it (click on photo to view larger): chopped kale (1cup), 1/4 cup chopped white & orange cauliflower and cucumber, cherry tomatoes, golden beets, 1/3 cup brown rice, sprouted sunflower seeds, reduced fat feta, flavored olive oil & lemon juice, and lean roasted beef. Yum! And lol, I just realized that rare beef doesn't look very appealing in the photo! But seriously, very tasty!
9am: Food prep done... Check. Laundry done... Check. Tried new recipe... Check! :-) Yesterday was my normal Counter of Chaos™ day... After grocery shopping, food was piled on my counter and then washed, chopped, grilled, crockpot'd, portioned and stored. Once that was complete, my daughter Shiloh wanted to try the Baked Ziti from Tosca Reno's Eat Clean Diet for Families book.
It was a lot more work than I anticipated (I don't have a food processor to shred the carrots.. took about 40 minutes to shred 2 cups by hand), but I really liked the way the carrot filled out the meal (and no one said, hey, is that carrot??) The recipe could use more seasoning, which we'll add next time. But overall, we gave it a solid 8 out of 10. Then it was time to finish up the laundry (yay! the washer didn't flood at all!). Today, I've added a section to the site, called "Today's Cooler". I put photos and a description of what's in my cooler every day... and yes, you can take that cooler anywhere! Lol! I get teased by people who know me about my cooler going everywhere with me, and I get teased about how often I eat (every 2 to 3 hours), and how much I eat (I'm no bird), but... no one can deny that it's worked for me, and I firmly believe it can work for anyone who is committed to becoming healthy. You have to want it to get it, right? It's about ownership... who owns me, my weight and my health? ME. Not my food, not my schedule, not my family or my friends. On the flip side, my dog is completely dependent on me for all her needs. If she's hungry, she relies on me to feed her, and has to take what I give her. Well, I'm nobody's dog. No one is responsible for what goes in my mouth but me. And yeah, sometimes that sucks. So much easier to blame someone else, right? :-)
That said, lol, to be honest... I was a bit out of sync this morning, getting back into the work schedule was a struggle after a couple weeks off. And unfortunately, after one or two too many treats this holiday season, I did notice that the work slacks are a bit snug around the waist. :-( Damn! Completely my own fault, but that's coming off! Hitting the gym today, just cardio. Tomorrow will be upper body & light cardio. Wednesday is off. Thursday is lower body & light cardio. Friday is cardio. Saturday & Sunday I plan on more lifting and cardio, we'll see how it works out. Bye Bye Muffin Top, You're Out of Here!
Saturday, 1/2/10: Moving day complete. The boys are all unpacked and set up (view pics). And the fridge and pantry are stocked (I couldn't help it, I had to make sure they had food!). It'll be awhile before it really sinks in that he doesn't live here anymore. When we got home, I didn't pull all the way into the driveway so Joey would have room to park the bike... lol. Bethany is already moved into the room and is thrilled to have her own space (as is Ariel). And Nakki is glad to have run of the house again.
Tomorrow is laundry day and food prep, then Monday it's back to business as usual. Kids go back to school and I go back to work.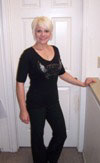 Friday, 1/1/10: Lots of catching up to do again. First, here's a pic of me with the new hair, and the outfit Tab got me for christmas :-) I love Nike's workout pants (and that I wear a size XS in them!), and the top is sooo comfortable! And of course, since it's shiny & sparkly, it's so very me :-) Lol! Click on the pic to enlarge.
Wednesday we did our christmas. Here's the kids on our "christmas" morning...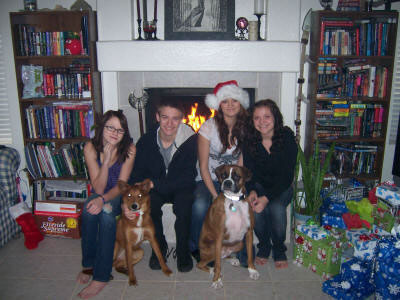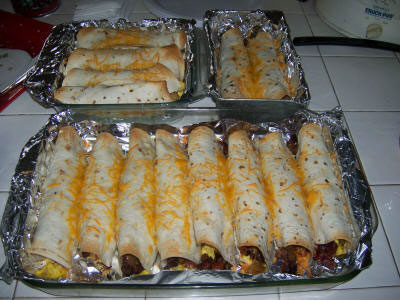 And our breakfast burritos... They're so yummy, but definitely a treat for rare occasions. They're stuffed full of refried black beans, ground beef, scrambled eggs, potatoes, cheese, salsa, bacon, and then wrapped and topped with more cheese. Sometimes I add spanish rice to the mix. Like I said, they're a treat, and not for regular consumption, lol. We also did stuffed pancake bites (mostly clean), and crockpot spiced cider. Then deviled eggs (clean), olives, pickles later in the day. Dinner was a rare beef roast with mushroom gravy (my hands are still swollen from the sodium I'm not used to!), mashed cheddar & chive potatoes (clean), peas, green salad, potato rolls, and cranberry sauce. I did really well with limiting my portions, though I'm regretting the sodium. But, to have that as my only holiday food regret, I'm calling it a success. And it was relatively easy to clean up the holiday favorites that the family loves, without them even noticing. I'll add some of the cleaner recipes to the recipe page soon.
There's been no gym time this week. I'm seriously craving it. And I've been so concerned with not overeating this holiday season, that I think I've actually under-eaten. Oy. So Sunday will be the settle back down and get back into routine day.
Tomorrow is moving day for my son, Joey. Once we finish helping him, Bill and I are tearing into the garage. He made me a deal, we get the garage cleaned out and we will do P90X together. Woohoo! I ordered it yesterday from eBay ($64!!). Once the garage is done, we'll just need to get the resistance bands, and a few more dumbbells, plus the pullup bars. Then we'll be good to go! I'm so excited about doing it!
On a sour note, our washing machine decided (as it periodically does) to flood uncontrollably. Only solution is to shut off the water to the machine. Grr. We spent many hours sucking up water from the living room with the shop vac. Not Bill's favorite "Christmas" activity.