What's a Healthy Hero?
Healthy Heroes are people you meet in every day life... folks who stand out to you, represent something special to you, motivate and inspire you. On this page, I'll be sharing introductions and interviews of men and women who live healthy and balanced lives and inspire those around them. They understand the importance of nutrition and exercise, and both are present in their lives. Above and beyond food & fitness, these people exude "balanced life". They're not celebrities or folks you've seen on the cover of a fitness magazine (though they truly belong there!). These are real people, living real lives, and they're my heroes.
I hope you enjoy "meeting" them.
~ Chelle
Meet Abbie Chapman Meet Julianna Curtis
---
Meet Julianna Curtis aka Lady Fontayne: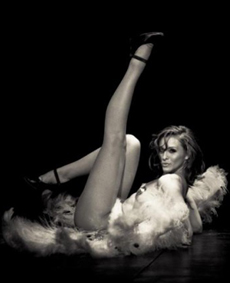 Allow me to introduce you to Julianna Curtis, aka Lady Fontayne of Scandalesque. I met Julianna, when I signed up for an exotic fitness class. I was searching for a way to challenge myself, to reach a new level of my own evolution, and her MYLF™ Workshop seemed just the thing. It was a burlesque fitness course that culminated in an actual performance, at an actual club, as a warm-up act for the Scandalesque show that evening. I was unaware of the performance aspect when I paid for my class. Lol.
The class, the process, the performance became an entirely new journey for me and along the way I learned appreciation of my body, respect for the men and women who perform, and for the first time in my life - I became comfortable in my own skin.
Julianna was patient, warm, funny, and she pushed when she needed to - when I needed to be pushed. Her absolute faith in her own presence, her sensuality, her femininity, inspired me. She touched my life for a brief period of time, but her impact has never diminished. I am a better person, a better woman, for the lessons Julianna taught me.
INTERVIEW
Q: Name one or two things that are uniquely rewarding about your burlesque work.
A: I get to express my sensuality on stage in hopes of inspiring women to be more expressive (in private or in public) and in doing so I show how powerful women are (just in case people need a reminder).
Q: What moved you to teach burlesque to mainstream women?
A: After our shows women would approach us and ask us to teach what we do to them. It just goes to show that every woman wants to feel her sensuality and sexuality as a place of empowerment for every facet of her life. From being a sensual being comes the most sacred and important roles of all time...motherhood.

Q: What do you think is the most challenging aspect of teaching the general public burlesque (challenging to the student, and challenging to the teacher)?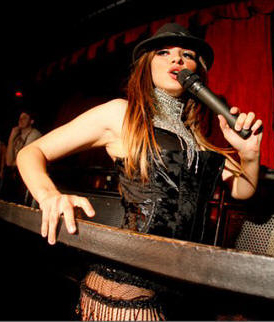 A: I'd say for the general public getting them to understand it's not about stripping or being "slutty". It truly is about being confident in your body and feeling powerful as a woman. The "stripping" part is more a literal representation of what happens psychologically when you "strip" away your fears about yourself. When you can look at yourself in the mirror and truly feel comfortable about being a woman.

Q: What is the most rewarding (to the student, and to the teacher)?
A: When I see a woman really get what I'm teaching her. That's the best. When I see her transform in the weeks we see each other and emerge a little more each class with more confidence. The student's reward of finding herself is also my reward.

Q: If you could tell someone who has never seen burlesque just one thing about it, what would that be?
A: It's a lot of fun to see a show. It's done in a theatrical way to portray the spectrum of human sexuality.

Q: You're a very busy woman… wife, mother of 2 young children, founder-administrator-performer-teacher in a business that's growing… how do you find, and keep, the balance between loving what you do and being there for your family?
A: I take the kids with me into my world. They've been at many rehearsals and they sing with me in the car. Being so busy does wear on my creative "well" if you will. I re-fill it by doing something for myself every day.

Q: What does an average day look like in your life?
A: I don't sit down. I know the second I get up, the babies will have me runnin'! We have "rock star" schedules. This means we go from 11am to 11pm. This works for us. There is a chance for a break when the kids nap, but there are always dishes to wash, laundry to fold, emails to get to. I can only do so much while they sleep. I have to chose one thing.

Q: What do you consider good Nutrition?
A: Eating enough, first of all. It's hard for me right now to get enough food in me because I'm constantly moving. I don't do fast food and I'm very conscious about what I put in my body. I consider good nutrition to be eating live foods; real foods; gluten free foods; food I prepare or get prepared by an organic, clean kitchen.

Q: How important do you believe Nutrition to be?
A: Eating well effects my whole being. I notice it really effects my mind and my mood. I feel better eating fresh foods. I feel happier in general. Nutrition is so important.

Q: What does a day's worth of your meals look like?
A: Oat meal, berries and yogurt in the morning. Humus and a salad for lunch and a piece of fish, brown rice and veggies for dinner. I love my hot, unsweetened, jasmine green tea also. It makes me feel like I'm drinking flowers.

Q: What do you consider "Fit"?
A: When I feel flexible and toned.

Q: What does your exercise/fitness routine look like? Do you include cardio? Weight lifting? Group classes?
A: I chase my children all day. I work out when I can. If I get to the gym I either work big muscles (lats, legs) or give myself little sweat a deep stretch.

Q: You have two young children, the youngest is 6 months old… how do you feel about your post-baby body?
A: I am super hot! I'll just say it! Yes, there are places here and there that are different than they used to be, but on the whole. I feel super hot! Is it possible that having children unlocks the power of the vagina!? When my fiancée and I have a chance, the sex is better than ever!

Q: What is your favorite thing about yourself?
A: My quirky personality.

Q: Your least favorite?
A: I catch myself being a negative Nancy more often than I like.

Q: What is your personal favorite "me-time" activity?
A: Baths!

Q: What's on your iPod/in your stereo?
A: Raffi, kid's songs. Oh ya, I'm really cool right now!

Q: Do you have a favorite healthy recipe to share?
A: I love my kale salad and so does my son! Fresh raw kale shredded. I add chopped pecans, lemon juice, olive oil and sea salt. Delish and crazy healthy!

Links:
Julianna's Bio here
Scandalesque website here
Scandalesque Class Schedule here
Pussycat Pole Dance Class Schedule - exotic dance classes here
Pussycat Pole Dance - All Classes here
My burlesque experience under Julianna's amazing tutelage can be found here.
---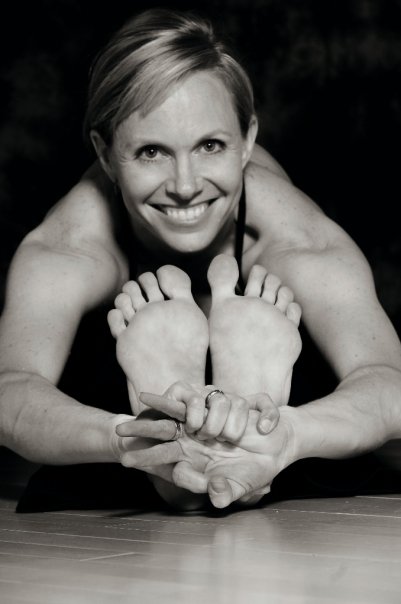 I'd like to introduce you to Abbie; she's my favorite yoga instructor at my local gym and she inspires me every Tuesday and Thursday, bright and early at 6:30 a.m. I had tried a variety of instructors and classes, but hadn't found my fit until I joined one of Abbie's. While maintaining the integrity and flow of yoga, she also creates a warm welcoming environment, intuitively teaching balance in both form and life. She carries herself with grace and ease, encouraging those around her to find both peace and challenge.
Abbie is a genuinely warm and sincere person. Additionally, she has an amazing body. Let's be honest, when you walk into an exercise class the instructor is kind of the gauge, right? My goal is to be lean and well-toned; looking at my instructor, I want to do what she does so I can look like her. That may be simplifying it, but isn't that the case? If the instructor looks like Attila the Hun, you're not likely to go back, because that's not what you want to look like, correct? So on a purely superficial level, Abbie is a physique hero to me, as well. She's tall and lean, with well-defined musculature, along with being naturally beautiful :-) Her physique looks the way it does because she eats right and is fit... not because she's uber-leaned out for a photo-shoot... this is the way she looks in real life.
While I'll never be tall, lol, I can learn from her, integrating yoga into my fitness routine. Abbie inspires me to continue practicing yoga... for the physique benefits, the mind-body benefits, and the life-lessons that can be learned. Her natural grace and peaceful energy encourage me to find and grow those things in my own life.
INTERVIEW
Q: What moved you to try yoga for the first time?
A: My good friend Debra Lynn Eden is a yoga instructor at Mountainside Fitness. I was trying to get back into shape after my 3rd child and was exploring different classes at the gym. I took her Yoga 101 class a few times and was hooked. I haven't stopped going since! I try to practice yoga at least 4 times a week.

Q: What motivated your decision to become a yoga instructor?
A: Honestly, I was more than a little nervous about standing up there and teaching, but knew I wanted to do it. Several of my friends who had done the training said that it was life-changing. Plus, I knew it would be a great way to help people feel better (share this experience I was having) and get some free yoga as well! The training gave me the confidence I needed to go out there and do what I could. I was lucky that people kept coming back! Now I love it and rarely get nervous at all.


Q: How long have you been teaching?
A: I have been teaching around 2 1/2 years. I started in Feb. 2008 teaching at Mountainside Fitness on Tues/Thurs at 6:30am. Now I teach 7 classes a week.

Q: If you could tell someone who has never tried yoga just one thing about it, what would that be?
A: That it gets much easier very quickly, so don't give up AND to keep trying different things until you find something that resonates with you. Phoenix and Scottsdale both have so much to offer as far as studios, teacher, styles, classes. There is truly something for everyone.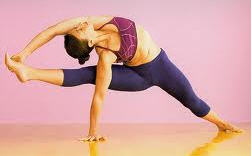 Q: What is your personal favorite pose?
A: I love challenging poses such as arm balances. [One of my favorites is] Visvamitrasana. However, I LOVE handstand, and walk around my house constantly working on it. There are heel marks all over the walls of my house if you look up above eye level. After spending a lifetime kicking myself upside down, I have only recently begun to be able to stay up there without the wall. Yoga reminds me that there are still things to accomplish and master and that we will if we practice, practice, practice!

Q: Are you employed outside the fitness industry? If yes, what do you do?
A: My other job is being a mom to my three wonderful children, ages 9,7 & 5.

Q: What does an average day look like in your life?
A: They are all different...but, say a Tuesday, I get up at 5am, drink my coffee, walk the dog, go teach a 6:30am yoga class, come home, eat a quick breakfast and get the kids off to school. After that, I might run errands or volunteer in one of their classes. Then, I run back to the gym or studio to take a yoga class for myself. Eat lunch, straighten the house, try to grab a shower, then get the kids at 3pm. The afternoons are for homework, dance, gymnastics, football practice, TONS of running around with 3 kids. After that is dinner with our family then family time, TV and/or reading, and bed (for us usually too, many nights, we are in bed by 9pm).

Q: What do you consider good Nutrition?
A: Trying to eat in a way that promotes total wellness as well as mindfulness to the environment. When I can, I buy un-processed, organic, cage free, grain fed, free range, and hormone free. That being said, we are on a budget, so we aren't perfect. My focus is trying to get us to eat lots of whole grains, fruits and veggies. I like to make meat more of the side dish instead of the main dish. I rarely if ever buy beef because it isn't good for the environment and is more difficult to digest. For dinners, I try to set aside one day that we eat no meat and another where we have fish. When I can, I make things from scratch. That being said, I am human and we are on busy schedules, so we do our best.

Q: How important do you believe Nutrition to be?
A: Food has changed a lot since we were kids. I think that now we know to check labels and be smarter about what we eat. We need to get back to eating food that looks like it's original state. The more we can focus on the fresh fruits and veggies, the better. Eating organic is not just healthier, but it is more delicious (and makes more sense to eat in season).

Q: What does a day's worth of your meals/food intake look like?
A: Every day is different. I eat cereal or a soyjoy bar and fruit for breakfast, and a sandwich for lunch (usually turkey and tomato on whole wheat) with fruit. For dinner, we have something family friendly with a veggie or two. I LOVE savory snacks (chips) and ice cream is my downfall. I try not to overindulge. If I have a glass of wine in the evening, I try to skip dessert.

Q: What do you consider "Fit"?
A: Being fit to me is both mind and body. If you live a healthy, active lifestyle and live the life you want, then I think that is being fit. I spent too many years with negative thoughts and body image. No matter what I looked like, I never felt good. So, being fit is as much a state of mind as it is body fat or ability to run or hike or yoga.

Q: What does your exercise/fitness routine look like? Do you include cardio? Weight lifting? Group classes?
A: I do yoga 3-5 times a week plus some light cardio such as walking, running or eliptical 2-3 times a week.

Q: How long have you been at your current weight and physique, and what do you do to maintain them?
A: I gained some extra weight in college, but was able to get rid of it through exercise and diet after I began my post-college career. So, for the most part, I have been within 5-10 pounds of my current weight since high school. I try to eat in moderation. If I over indulge, I try to compensate by cutting back the next day or two. When I eat out, I almost always order salad because it is something I love and hate to make. I have never maintained a consistent exercise schedule until I started yoga, but now I'm hooked.

Q: Are you happy with your current weight and physique?
A: Well, is anyone totally satisfied? I'm always trying to get leaner, be thinner, and healthier. I am not tiny or petite. I am tall and muscular with definite flaws. But, through yoga, I have come to accept my body and love it for what it can do and what it has done. It has created 3 healthy, amazing children, so I have to step back and remember that I love that more than I need a 6 pack or to press to handstand.

Q: What is your favorite thing about yourself?
A: I am an eternal optimist. I LOVE my life.

Q: Your least favorite?
A: I am horrible with names and faces. Not a great trait for a yoga teacher.

Q: What's on your iPod?
A: Everything. Some of my favorites are One Republic, Ingrid Michaelson, Citizen Cope, Ben Harper, Trevor Hall, Krishna Das, Jason Mraz, Jai Uttal.

Q: Do you have a favorite healthy recipe to share?
A: This is my very favorite salmon recipe. My daughter says it is her "favorite chicken". It is from Barefoot Contessa and prep time is 9 minutes, you can't beat that! I cook it in a grill pan on the stove.

Ingredients
1 side fresh salmon, boned but skin on (about 3 pounds)
For the marinade:
2 tablespoons Dijon mustard
3 tablespoons good soy sauce
6 tablespoons good olive oil
1/2 teaspoon minced garlic

Directions
Light charcoal briquettes in a grill and brush the grilling rack with oil to keep the salmon from sticking.

While the grill is heating, lay the salmon skin side down on a cutting board and cut it crosswise into 4 equal pieces. Whisk together the mustard, soy sauce, olive oil, and garlic in a small bowl. Drizzle half of the marinade onto the salmon and allow it to sit for 10 minutes.

Place the salmon skin side down on the hot grill; discard the marinade the fish was sitting in. Grill for 4 to 5 minutes, depending on the thickness of the fish. Turn carefully with a wide spatula and grill for another 4 to 5 minutes. The salmon will be slightly raw in the center, but don't worry; it will keep cooking as it sits.

Transfer the fish to a flat plate, skin side down, and spoon the reserved marinade on top. Allow the fish to rest for 10 minutes. Remove the skin and serve warm, at room temperature, or chilled
○ Back to Top ○
---