Before: 2/2007
194 pounds


After: 10/2009
123 pounds
One year of weight maintenance!


After: 10/2010
128 pounds
Two years of weight maintenance!

Hi! I'm Chelle.
Over an 18 month period, I changed my life. I started January 2007 at 194** pounds, wearing a size 16/18. By my birthday in October of 2008, I was well-past my goal weight and down to 123 pounds and a size 0/2. Because of the things I have learned and the lifestyle changes I have made, I've been able to maintain both my weight and size, and being healthy has also helped bring my asthma under control. (**I had originally thought my starting weight was 178, but according to my doctor's records it was actually 194 lbs!!)
I'm just a "normal" person. I have a full time job, I have 4 kids, a hus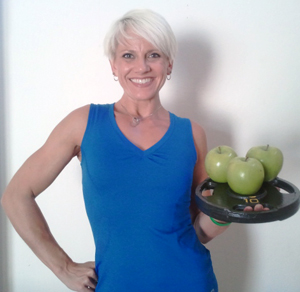 band, an extended family, friends... a life. Changing my lifestyle wasn't easy, I didn't always have "time", but along the way I've learned some tricks to make it doable, and I hope my tips can help you reach your own goals.
The transformation has been drastic... and difficult, but worth every drop of sweat, every tear. In fact, a direct result of my transformation is the honor of being featured in two magazines! You can see me in the June 2009 issue of Scottsdale Health Magazine, the Fit & Fabulous column, and the March 2009 issue of Women's Health Magazine, You Lose, You Win column (click here to go directly to my page). I was also contacted by Rodale (the publishers of Women's Health Magazine) to have my story included in their promotional brochure (Received my copy 2/2/2010)! Additionally, I was asked to join the Eat Clean Diet™ Team at The Arnold Sports Festival in Columbus Ohio (March 3-6, 2011)! I worked the booth with the Team at the Expo, wearing an Eat Clean Diet uniform and talking to people! What an honor! I'm thrilled to have attended and be given this tremendous opportunity & experience! I'm excited to be an Eat Clean Diet Ambassador!
View info & pics here: http://blog.recipeforfitness.com/2011/03/back-from-arnold-woooohooo.html and http://blog.recipeforfitness.com/2011/03/my-arnold-recap.html
Most recently (August 2011), I was featured in Oxygen Magazine (pg 150)!!


My continued quest for my own evolution also took me to a Burlesque fitness class and onto the stage! (read about it in my journal, and view photos).

One of my proudest accomplishments is reaching my one year anniversary of weight maintenance. I hit 123 lbs in October 2008. October 24, 2009, I was still 123 lbs. I generally fluctuate within 5 lbs of that weight (that's my comfort zone). As of October 24, 2010, I am still maintaining my goal weight! 2 years and counting!
MOST RECENT: I competed in my first Figure Contest in August 2011. Check out my blog for photos!
contact me anytime at chelle @ RecipeForFitness.com

---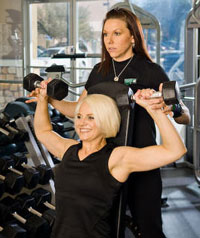 A shoutout regarding the World's GREATEST Personal Trainer...
Tabitha (Holly) Citro is beside and behind every success I've had along this journey. From the very first day, she gave me the tools, motivation, education, support and encouragement to reach my goals... even surpass them! I trained with Tab for more than two years and value every moment! Though I am no longer a client, Tab is still an integral part of my life and I'm a better person for knowing her.
Thank you, Tab!
How Clean Eating Changed My Life!
*Note: Where you see the word "diet", read it as "what you put in your mouth", not as a traditional "diet".
Diet is 80% of the weight loss battle, with genetics being 10% and exercise a final 10%... yes, that's right. Exercise is only about 10% of what gets you to your weight loss goals. When I injured my knee, and I was nowhere near my goal, I knew I had to really get serious about my food-lifestyle. And it worked! I lost more weight post-injury than in the 8 months prior!
When I began working out with Tabitha (Holly), one of the first things she started me on was a food journal. EVERYTHING that went in my mouth, went into that daily journal. It was soon very clear to me that fast-food was the majority of my diet. That had to change. Tabitha educated me on nutrition and eating like a "body-builder"... 6 small meals/snacks per day, each containing a lean protein, complex carb and healthy fat. Later on, Tosca Reno wrote The Eat Clean Diet. When Tosca's book was released, it was great to see a similar perspective on food.
With a hectic life, 4 kids at home and a husband, major food changes were daunting, nearly impossible. It became a lesson in baby-steps for me. I traded out butter for "I Can't Believe It's Not Butter" spray. I traded out pasta and boxed rice, stuffing, etc for brown rice. I switched my saucy meats for steamed chicken. I added steamed vegetables. In the early days, I purchased a lot of South Beach packaged meals, along with Lean Cuisines. Then as I focused on lowering my sodium intake and balancing my carbs and protein, those packaged meals disappeared, too.
In August 2007, when I had to really tighten my diet because my workouts were changed so drastically due to a knee injury, Tabitha helped me create a lean and mean diet plan to see me through recovery without jeopardizing my goals.
Diet is HUGE! Yes, it was very difficult to stick to at first, but within a couple of weeks, I began to feel better, had more energy, fewer headaches (I've always been plagued by migraines)... and I was losing weight... between 2 and 5 pounds a week! Remember what I said about 80-10-10? Exercise is only 10 percent... but I was working hard! I made that 10% count! I trained with Tabitha 2x a week, plus did cardio 3-4 times a week (rowing machine, or elliptical, or treadmill, recumbent bike).
Over time the new diet became a true lifestyle change. I have committed myself to never "going back". I enjoy food so much more now, it tastes better, it gives my body the fuel it needs, and I feel good! I like my new life, my new body, and my new outlook.
Do I ever eat fast-food? Yep. But I have a survival guide. :-) View it HERE
What are my cheats? I LOVE french fries! I love Hagen Daaz Fleur de sel caramel ice cream. I ADORE chocolate gelato!! Did I mention french fries? Oh, and french fries. :-) - My solution to the fries... these sweet potato fries... they're a MUST TRY! Dark Chocolate and Red Wine are not on my "cheat" list, as I believe they are gifts from the gods, and to not partake would offend said gods... Really, who wants to piss of the gods? :-)
When do I cheat (treat meal)? Since reaching my goal weight, I've gone into "maintenance mode". I no longer have to watch my diet so strictly, but I can't go crazy with it either. I eat clean all week long, and because it's habit, the weekend too, but I do enjoy a treat meal once or twice a week without any guilt. As long as I maintain my "normal" diet, and get in my strength training and cardio sessions, I can have those treats (within reason) and not pay a price. But it took me 2 years of consistent work to get to this point.
Want to see what's in my cooler today? Click to view!!
Start Your Own Transformation!
1. Get Moving - Walk around the block, build up to several laps. Walk around instead of sitting, take the stairs instead of the escalator or elevator. Get into a gym if that's what you enjoy.
2. Rebuild The Metabolism - Eat 6 times a day!! 3 meals, 3 snacks, about 2-3 hours apart. This was so hard to do at first, because I thought if I wasn't hungry, I shouldn't eat. WRONG! When you skip meals, your body goes into starvation mode and hoards fat, NOT shedding fat. Any weight lost, is muscle, and that's a bad thing. Eat, Eat, Eat... even if it's just a handful of natural almonds or an apple. Start small and build up to your required calories per day. Now... it has to be said... eating 6 times per day doesn't mean 6 snicker bars. Eat clean to see results.
3. Find out Your Required Calories Per Day - Google BMR calculators and Calorie Calculators. Also... check out my Calorie page on the new site!
4. Keep Track! Food Journal - I am so grateful to Tabitha for getting me started on a food journal. Today, I can look back over 2 years and see my progress! In my journal, I also recorded my workouts and cardio, my weight and measurements, and even slipped in photos taken along the way. Whenever I got discouraged, I could flip back through the pages and see how far I'd come. Definitely one of the best things I could have done.
5. REWARD YOURSELF - That's always the best part, right? :-) Seriously though, it's important. Set goals, large and small, and determine your rewards to match. For example... Lose 5 pounds in next 14 days - Reward: New Book or CD, or Movie. Lose 20 pounds in 6 months - Reward: Buy a new pair of jeans! And take a picture (yeah, that feels like a punishment, right? Do it anyway... slip it into your journal. You'll be so glad you did later!).
6. Don't Give Up - There are lots of online communities that are great support during your weight loss journey. Don't count on just your family or friends to keep you encouraged. It doesn't always work out that way. But an online community or a face-to-face group/friend will keep you grounded, honest and encouraged. And when it feels too hard? Keep going. Fell off the wagon? Get back on. Ate a whole gallon of Ben & Jerry's? Enjoy the flavor, tomorrow's a new day. Be honest about your weaknesses, work to improve, and just keep going. One foot in front of the other. Tomorrow is always a new opportunity, but there's no better time to start than today. :-)
Check out the recipes page for some great meal ideas! You can also view my previous progress on the journal page. My current progress is all on my blog.
I did it, and you can too! Visit my Food Plan page to learn how! You'll find:
My Grocery List, Single-Day Food preparation plan, How to pack a cooler & sample menu's
Easy Food Swaps
What's in Chelle's Cooler Today? - view new photos and descriptions every day!