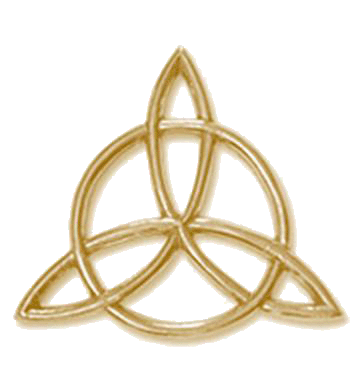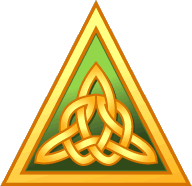 If you're familiar with the television series "Charmed", you've seen this symbol. Likewise, if you've ever been in a church you've also probably seen it, or a variation of it. The symbol is also called the Trinity Knot, the Holy Trinity, and the Eternal Circle of Life.
Here's some more information about the Triquetra from various sources.
Triquetra: The Symbol with Universal Meaning
The word is Latin for "three-cornered."

The symbol has been found, in northern Europe, on stones that date back to before the first millennium (AD 1,000). The Triquetra is also found in the Book of Kells, an illuminated manuscript of the Gospels that was likely copied on the Island of Iona (off the Scottish coast) around AD 800.

For Christians, the Triquetra represents the Trinity: Father, Son, and Holy Spirit--three persons as one God. Its three equal arcs represent equality, its continuous line expresses eternity, and the interweaving represents indivisibility.

For Pagans (Wiccans included), the Triquetra represents the threefold nature of the Goddess as virgin, mother and crone. It symbolizes life, death, and rebirth and the three forces of nature: earth, air, and water. The inner three circles represent the female element and fertility.
Here's an interesting UK website for the TV series Charmed with great info on the Triquetra:
"Charmed" Logo
source: http://www.thewiccabox.co.uk/charmed/charmed_logo.htm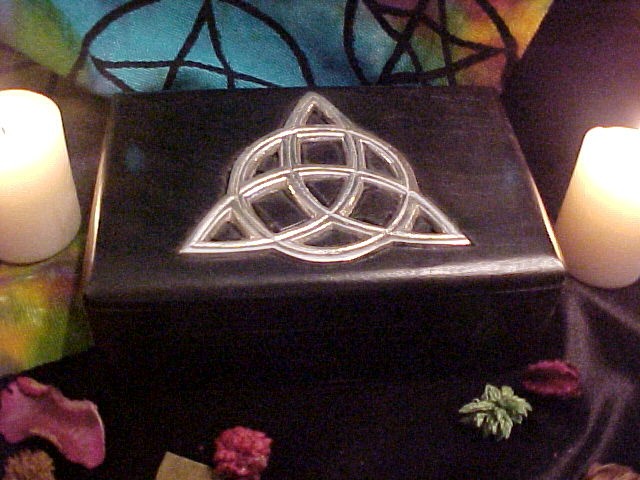 Many Charmed fans ask "What is this Symbol ?".

This is an ancient symbol called a Triquetra (pronounced tri-KET-ra) which is Latin for three-cornered.

What about its history ? Where did it come from ?

Nobody knows for sure, but a three-cornered symbol has appeared in many cultures throughout the world, the earliest example being from 5000 year old Indian artifacts.

This particular symbol was and still is used by the Christian faith (take a closer look at your local church and you will probably find at least one example). Now whether the Christians "acquired" this particular symbol from the pagans who were also using this symbol no one knows, although it is known that Christians acquired various symbols and religious holidays (Christmas is one example, it was originally a pagan festival that celebrated the winter solstice, Easter is another, originally a pagan festival of the spring equinox)

What does it signify ?

The number 3 is important to many cultures and in nature.

Christian Symbolism
The Triquetra represents the Holy Trinity: the Father, Son, and Holy Spirit. The unbroken circle represents eternity. The interwoven nature of the symbol denotes the indivisibility and equality of the Holy Trinity. It symbolizes that the Holy Spirit is three beings of power, honor, and glory but is indivisibly one God.

Jewish Symbolism
Three is extremely significant in Judaism, as the human condition is seen as tripartite: mans relationship to himself and the world of his mind, mans relationship to others in the "real world" and mans relationship with God. According to the Maharal, this is the meaning of the three pillars in Avot 1:2--Torah, Avodah (Service of God), and Acts of Kindness.

Pagan/Wiccan/Goddess Symbolism
It symbolizes life, death, and rebirth and the three forces of nature: earth, air, and water. The inner three circles represent the female element and fertility.

It is also known as the Triple Goddess. the Maiden, Mother, and Crone represent the life stages of every woman (and man). born to innocence, inspired to create, then embodied with wisdom.

The Triquetra is a symbol of protection. It represents the safety of a wiccan while he/she is wearing it, or showing respect for the Wiccan religion.
More info on the Triquetra and the Number 3:
http://www.greatdreams.com/three/three.htm
Wax Seals
This company does the best work we've ever seen! They're fast, friendly, and fabulously helpful!
The Design Station Ltd.
These are the seals we've ordered so far.
Bill & Chelle Trivia
Curious? Just want some useless information? Here it is!
Favorite TV Shows:

Chelle
Hell's Kitchen, Biggest Loser, Samantha Who?, Bones, CSI series, Stargate Atlantis, Battlestar Galactica, Chuck, Dexter, Burn Notice, Supernatural, Terminator: The Sarah Connor Chronicles
Bill
Sports, Stargate (SG1), Stargate Atlantis, Andromeda, Battlestar Galactica, CSI series, Seinfeld, Everybody Loves Raymond, Drew Carey Show, Becker, Fear Factor, NCIS, Til Death, Deadliest Catch
We also watch MythBusters, Miami Ink, Orange County Choppers, History Channel & Discovery Channel

TV Shows we loved that were cancelled:
Alias
Witchblade
Stargate (SG-1)
Dark Angel
Tru Calling

Favorite Movies:

Chelle
Practical Magic, EverAfter, When Harry Met Sally, Tomb Raider 1 & 2, Alien Vs Predator, Pirates of the Caribbean, Mummy Series, Resident Evil Series, Alien III, Air Force One, Patriot Games, Clear & Present Danger, The Devil's Own, The Bourne series....
Bill
Die Hard, Lethal Weapon Series, Terminator Series, Ferris Bueller's Day Off, Liar Liar, Matrix (the original), Mummy & Mummy Returns, Whole 9 Yards, Hunt for Red October, The Fugitive, Dirty Harry Movies, Predator, True Lies, The Bourne series....

Other movies:
The Prestige -- Loved it!
Ultra Violet -- Loved it!
Eragon -- Great for the whole family!
The Bourne movies -- Loved 'em!
Mr. & Mrs. Smith -- Loved it!


Worst Movie I've Ever Seen

Chelle
Eye of the Beholder
Bill
Dead Ringers

Favorite Activities:

Chelle
Reading JD Robb, Nora Roberts, Maggie Shayne, Christine Feehan, Sherrilynn Kenyon, Sharon Sala; listen to music; play pool; Researching all things Celtic; Family History; Pretending I can grow a garden; Drowning my sorrows for dead plants by shopping Ebay; Making Bath Scrubs & stuff; Finding unique knick-knacks & art for the house; Sharing my thoughts and opinions with Bill,
Bill
Playing Pool; Playing Poker (Texas Hold'em); Playing Basketball; Playing Mad Scientist in the Garage (don't ask, you really don't want to know...trust me); Collecting Swords; Family History; Making fun of Chelle's "garden"; Worrying about what Chelle's buying on Ebay... hope it's not another plant; Hoping Chelle won't ask me to try her new bath scrubs; Don't even ask me about the "unique" art and stuff for the house; What? Were you saying something?

Favorite Music:

Chelle
Stevie Nicks, Evanescence, Collective Soul, Submersed, Enya, Loreena McKennitt, Sarah Brightman, Moya Brennan, Ratt, Nickelback, Matchbox 20, Rob Thomas (solo album), Goo Goo Dolls, Godsmack, Staind, Firehouse, Cher, Govi, Armik, Queen Latifa's The Donna Owen's Album, Melissa Etheridge, Fleetwood Mac, Seether, David Arkenstone, Live, Def Leppard, The Corrs, Clannad.
Bill
Metallica, Ratt, Van Halen, Scorpians, Dio, Dokken, Nickelback, 3 Doors Down, Submersed, Ozzy, Iron Maiden, Motley Crue, Godsmack, Puddle of Mudd, Staind, Firehouse, Seether, and all the weird music Chelle puts in the CD player when I don't get to it first.

Favorite Foods:

Chelle
Grandma Anne's Stuffed Grape leaves, Mexican Food, Steak & Shrimp, Snow Crab, Zucchini, Calamari
Bill
Mexican Food, Pizza, Steak & Potatoes, Chicken Parmesan

Favorite Memory Together -- High School:

Chelle
Sitting in front of Bill in Mrs. Evan's English class while he cracked jokes behind me trying to make me laugh out loud and get sent to Mrs. Catlett's office. And rushing out of Volleyball practice trying to get outside so I could watch Bill workout with the Football team.
Bill
In Coach Koller's Driver's Ed class making Chelle laugh so hard that she got sent to the office & in Mr. Thompson's 1st period class pulling Chelle's hat off to discover (along with everyone else) that her hair was neon green.

Favorite Memory Together -- Last 7 Years:

Chelle
1. That first e-mail after Mom found Bill, when he replied to my posting on Classmates.com... it was like, "Oh my gosh... there he is! I've missed him so much!"
2. Sitting together in the middle of a trade conference hospitality party, all by ourselves, talking & laughing till our stomach's and faces ached while everyone around us wanted to know what we were laughing about, and asking the bartender to give them whatever we had.
3. Through all the trips to Bakersfield for visitation and court, and consultations with my attorney, Bill was right there beside me keeping me going.
4. Bill proposing at Ontario airport, in the same parking lot, same parking space, where a few years before we had sat together for hours talking until he had finally missed his flight back to Phoenix, so we drove back.
Bill
1. Driving back from Ontario Airport, when I had a flight, but we instead drove to Phoenix because we didn't want to say goodbye.
2. Staying up all night talking (yes, talking) and remembering and reconnecting after the years apart.
3. Driving back from Bakersfield to Phoenix talking about strange and bizarre subjects to stay awake.
4. A business deal had gone severely sour, I felt incredibly low, and Chelle encouraged me and made me feel hopeful again.