Bill and Chelle met in September of 1985.
We both attended Capital Christian High School in Sacramento, CA.

At the end of that first day of school, Chelle's mom pointed Bill out where he was standing by the entrance to the gymnasium. She asked, "Who's that?"
Chelle answered, "That's Bill Stafford, he's new this year."

Chelle's mom pointed her finger in Chelle's face and said,
"That's the one you're going to marry."

Chelle sighed in teenage disgust & rolled her eyes.
Mom was right!
Bill and Chelle shared their sophomore, junior and senior years, in Sacramento. While we were never more than friends, we did attend two school dance/banquets together.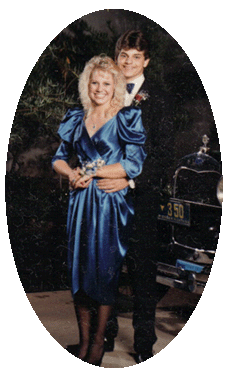 We graduated in 1988 and went our separate ways. Throughout the next ten years, Chelle's mom would periodically ask, "So, do you ever hear from Bill Stafford?" and Bill's mom would ask, "So, do you ever hear from Chelle Warren?"

For several years in the early 1990's, Chelle & Bill lived less than two miles apart in San Diego... Bill was even a regular visitor at Chelle's neighbor's home, yet we didn't cross paths.

In the Fall of 1998, Chelle's mom came across an alumni website for Capital Christian High School. While Chelle was not registered on the site, Bill was. Chelle got a phone call from Mom.

Today, we share a deep love, a blended family, and a commitment to enjoy the rest of our lives together. Bill has two children: Jeron and Ariel. Chelle has three: Joey, Shiloh and Bethany. Our home is often reminiscent of a circus.

Our wedding (to the relief of our mothers) will finally take place 20 years after we met:
May 6, 2006

(photo above, Homecoming Banquet 1986)