Rehearsal Dinner - May 5th, 2006
Use arrows at sides to scroll through images, click on small images to view larger.
May the roads rise to meet you. May the wind be at your back. May the sun shine warm upon your face; The rain fall soft upon your fields And, until we meet again, May God hold you in the palm of His hand.
A GAELIC BLESSING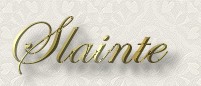 Download the music you've heard on our pages!


© Chelle Jacoby 2005
All text and images used on this site are protected by U.S. and international copyright laws. Unauthorized use is prohibited. All Rights Reserved
Website design by InkGoddess