Joey Jacoby.....

March 2010.
Even Sasha likes to Ride...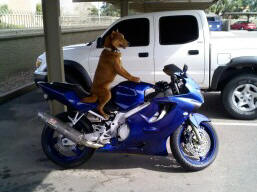 January 2, 2010: Today is moving day! Joey got an apartment with a friend in Mesa. They're all moved it, the fridge is stocked, and the dog is settled. See Photos...
Nov. 10, 2009: Today is the day! New bike!! It's a 1993 gsxr 600 and we'll be picking it up after 5pm.
See photos here...
Nov., 2009: So... the new bike is now toast. Or "totaled" to be specific. Joey was hit by a woman who decided she really didn't need to stop at the stop sign. Thankfully, he was wearing full gear and was physically unharmed... bruises and sore, but no broken bones. Mom's heart rate is still a little wobbly. The accident happened just around the corner from home, so we were all able to get there fast, and there were witnesses who spoke with the police (who issued a citation to the woman, and it's on the report that she was fully to blame). We've been shuffling schedules and swapping the car back and forth so Joey has transportation until he can get a new bike. Hopefully that'll be soon!
Got another bike... this is the 3rd... View photos. 10/27/09
Just turns 18! View photos. 10/15/09
Just got his first motorcycle! View photos. 6/25/09
Is a High School Graduate!!! Yeah!!! May 27, 2009, Joey took the walk and received his diploma.
View Photos & Video!!