Oahu
We began our trip at Phoenix International Airport on Friday, October 12th. We flew to Honolulu and began the fun! Waikiki Beach, Duke's Restaurant, International Marketplace, The Royal Dolphin Swim, The Shark Encounter, Paradise Cove Luau, Dole Pineapple Factory.... Wow! Oahu is Day1 through Day4.
Hawaii
On Tuesday, Day5, we headed over to the Big Island of Hawaii. Here we explored the lush rainforest, active volcanoes, Macadamia Nut Factory, and the fabulous drive around the island! Hawaii is Day4 through Day8.
Kids' School Pics
School pictures finally arrived!! View them here.
.:Wow! What a Vacation!!
We had an absolutely GREAT time! Every day had a new and fabulous experience to enjoy and share as a family. So much fun, so much to do, and now so much to remember!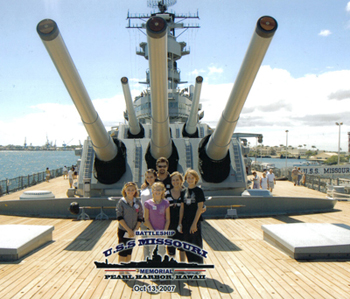 The photos are organized by day. Just click the above links to share our vacation.
Aloha!